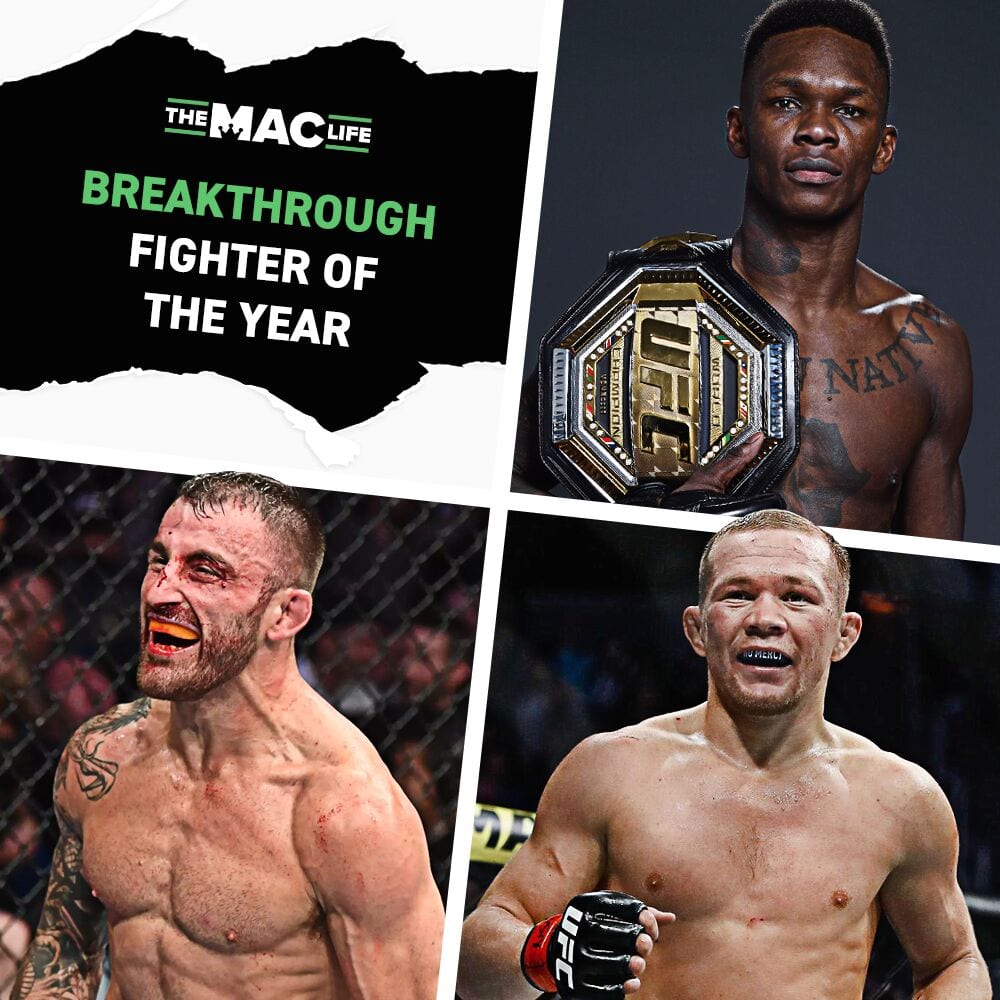 Which fighters made the biggest impact in their careers in this calendar year? TheMacLife.com looks at three fighters who we feel took their game to the next level in 2019 as part of a series of features to mark the significant happenings from the world of mixed martial arts this year.
    1. Israel Adesanya
'The Last Stylebender' would have been a worthy recipient of this honour a year ago but by virtue of three very significant wins this year, one of which earned him the undisputed UFC middleweight strap, there is no fighter who deserves to be top of this list more than Israel Adesanya. He began his year with a torch-passing win against Anderson Silva, the man for whom Adesanya is most often compared. While Silva is very much in the twilight of his fight career, the fight was a keen test for Adesanya and adequately determined to most that he is more than comfortable in the spotlight and facing one of the best to ever do it.
With a nod to Silva's exemplary career, the next test was a much sterner one for Israel Adesanya. In April, he carved out his first piece of UFC gold by outpointing Kelvin Gastelum to win the UFC's interim middleweight champion — but this one didn't come so easy. Through a hellacious 25 minutes, both men had opportunities to win (and we saw Adesanya 'hurt' for the first time in his UFC career) but the overcoming of that adversity was something that fight fans took note of; this isn't a man who shies away when things are getting tough. It was also arguably the year's best fight.
But Adesanya's greatest statement was yet to come. In October, and in an attempt to upgrade his interim title to the real thing, he faced Robert Whittaker for the undisputed middleweight title in Melbourne. It was anticipated to be a back-and-forth fight, with Adesanya's x-factors going up against the fight IQ, footwork and boxing of the champion but such was Adesanya's performance that the champion never going going and midway through the second round it was ended via strikes by the new, undisputed, and now superstar, Israel Adesanya.
   2. Alexander Volkanovski
The list of fighters who have defeated both Jose Aldo and Max Holloway is a short one: Conor McGregor and Alexander Volkanovski. The newly-crowed UFC featherweight king did it in his last two fights.
The 21-1 Australian fighter could be mistaken for another squat wrestler given the type of frame he has but there is a whole lot more to his game than just brute force. The former rugby player has extremely sound technique in the cage and the fight smarts to be able to implement a constructive game plan. Aldo was outfought in their May bout, something that the Brazilian even admits himself, and just last weekend he utilised a kick-heavy attack to stifle the Hawaiian.
An injury suffered in the Holloway bout might mean that Volkanovski js set for a spell on the sidelines but when he comes back, it will take a a lot to get the best of the division's most dominant fighter.
    3. Petr Yan
Mixed martial arts fans who keep their ears close to the ground will have heard this man's name being whispered as a significant prospect long before he made his UFC debut last year. The former ACB bantamweight champion won three bouts in quick succession in 2018, but followed that up this year with three more wins against a far tougher level of competition.
In February he earned a decision win against former world title challenger John Dodson, before doing the same to Jimmie Rivera in June and, last weekend, finished the teak-tough Urijah Faber with a head kick knockout in the third round of their UFC 245 main card bout.
A run towards title contention for the belt currently held by Henry Cejduo appears inevitable (though Aljamain Sterling will have something to say about that) in a 135-pound weight class which has rarely been as competitive as it is today. Look for Yan to continue that in 2020.
Comments
comments