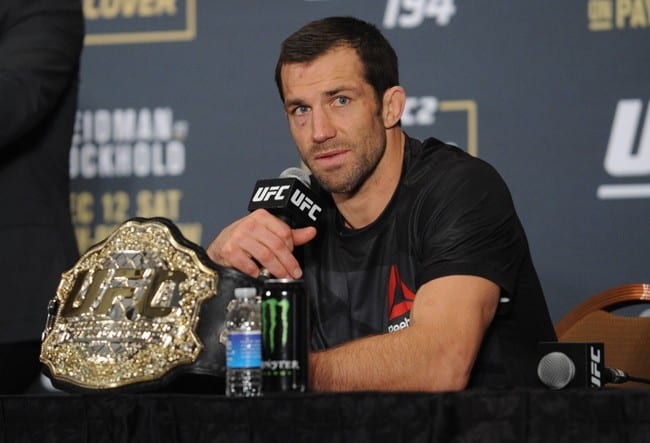 Luke Rockhold doesn't really have a lot of fond feelings for Michael Bisping.
The pair have met in the cage twice, each winning a contest, but it's the second fight — where Bisping knocked Rockhold out to win the UFC middleweight title that sticks in Rockhold's mind. Even during the post-fight press conference, Rockhold expressed a desire to fight Bisping once again, citing a personal dislike for the Brit as a reason why the loss stung so bad.
Now, with Bisping nearing retirement, it seems Rockhold might just get one last chance to even the score. According to him, the UFC are actively discussing the fight as an option for Bisping's farewell party, although this time it could be done in the light heavyweight division. Certainly, it's a bout Rockhold will accept with no hesitation.
"You know that's a fight that, if it's on the table, I'm gonna have to put that at the front of the line before I do anything else," Rockhold said, speaking on MMAFighting's The MMA Hour. "If he can back up what he just said, I'll be very willing to take that fight any where, any time.
"Why don't we do this thing in style? Let's sign on the bottom line. … I know this is a fight the UFC is pursuing. So, we'll see. We'll see if Bisping can back up his mouth once again."
Bisping has been out of the cage since suffering a brutal knockout to Kelvin Gastelum last year. While there were suggestions he could appear at UFC London as a last outing, that never materialised and as such fans have been waiting for news on who could be the last man he faces before walking away. But if anyone suspected Bisping would rather an easier task than Rockhold before leaving, they should reconsider — Bisping's ready for round three if Rockhold is.
"If that motherf**ker wants to throw down at 205, yeah, we can entertain that, buddy," Bisping said, speaking recently on his podcast Believe You Me. "I've got no problem knocking you out again.
"I exposed Luke Rockhold. I knocked him out. David Branch nearly knocked him out. Yoel knocked him out. I quite literally took his soul, so if he wants me to do it again, that is one that would stoke the fires so to speak. … I'll fight him at 205, I'll fight him at 185. I'm not bothered. That's if I'm gonna fight again, if the deal is right. Fortunately now, I'm in a good place."
–
Comments
comments