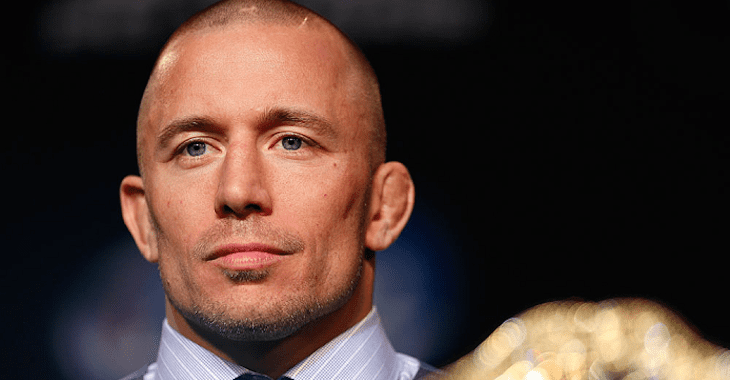 Georges St-Pierre might not in the cage fighting anytime soon, but that doesn't mean he's not keeping an eye on the landscape in his absence. 
St-Pierre has been out of action since his stunning return to fighting late last year, after falling sick with ulcerative colitis and choosing to vacate his newly won middleweight championship. Due to the nature of his quick return and subsequent exit, it feels as if St-Pierre has been ruled out people's minds once again.
However, the welterweight legend has been taking time to feel better, taking medication and recovering and can once again consider a return to fighting — so long as the contests proposed are right to continue his already considerable legacy.
"I could have had the title for one year," St-Pierre said, speaking on MMAFighting's The MMA Hour. "And thanked the sponsors and be on the spotlight and say I am the champion, and the truth is I knew I had a condition. I knew I would have probably [lost] weight because I was forcing myself to eat like crazy, this is not the way I eat naturally. And I found I had a lot of water retention. I found I was inflamed, I was not at my natural weight, it was not a healthy way of living, you know?
"So the reason I vacate the title is I didn't want to put the division on hold and I didn't want to make people wait for me. Even though I could have done it, I didn't want to. I didn't want to be that guy. I always been very vocal about being for the fighters condition, try to improve it and everything, and I didn't want to be the guy that stole the division. Because everybody is trying to make money, try to make a living. I didn't need to do that. My life doesn't depend on fighting."
At the moment, St-Pierre is in an interesting spot.
Realistically, while there is no one figure that stands ahead of any other for St-Pierre to face upon his return, there are a few names that seem likely to interest fans. With his illness making him lose body mass, options at 170-pounds (or even 155-pounds) are more enticing for the two-weight champion than fighting at middleweight for a second time. So, should St-Pierre return at the division he first made his name, the obvious contenders are welterweight champion Tyron Woodley, Nate Diaz, or — of course — Conor McGregor.
That said, St-Pierre doesn't seem to be particularly swayed by any of the trio at present.
"The fight with Nate Diaz doesn't really interest me because I beat Nick Diaz, and logically it's not a risk worth it to take for me," St-Pierre said. "Because if I beat Nate Diaz, it's like normal for me. People expect me to win, but if I lose, I lose a big part of my legacy. I lose my name. I think it's not worth it for me. Logically it's not worth it.
"I wanted to fight Tyron Woodley a few years ago. I wanted to fight Tyron Woodley, we even text each other. However the idea of coming back at 185 was put in my head, and then I thought it made more sense. That's why I choose to go at 185, because I fought at 170 all my life. And if I put my legacy against someone, it needs to be something great — like the guy needs to have accomplished something special. If I put my legacy, it's a risk, I want it to be worth it.
"If I fight against someone who fights at 170 — Tyron is a great champion, but I feel like he fought Wonderboy, he won the fight but his last fight were not fights that made history. He won the fight, that was great, but it feel like it was not a special fight. For me thats why I choose Bisping. I had a lot more to gain fighting Bisping than Tyron Woodley, that's why I choose that fight."
But while fans would certainly enjoy a St-Pierre bout against Diaz or Woodley, it's a contest with UFC lightweight champion Conor McGregor that seems most likely to gain traction. McGregor and St-Pierre are easily two of the most successful fighters in mixed martial arts history, and any meeting between the pair would likely break any box office record the UFC currently holds.
According to St-Pierre though, that's not necessarily enough to get in and fight the Irishman.
"The thing is Conor McGregor — money wise, I believe he's the one that can put the more money on the table," St-Pierre said. "However I think legacy wise, I don't think he's the guy legacy wise. Money wise, for people who are not huge fans of MMA, they know who is Conor McGregor. Who he is, he's the main guy. He's brought the sport to a different level. I would say he's the most charismatic guy, he sells. He's the biggest seller in the sport.
"If you talk about legacy, if I comeback [it's] legacy that interest me the most. More than the money. Money, yes it's good, but if I come back it would be more for [a] legacy match. You talk about the Diaz brother, I know Diaz has been offered to fight for the title, lets say Nick comes back fight for the title.
"Diaz for me now is not a good fight, its not a risk to take. lets say he come back and he win a title or he accomplishes something great. Now his name is higher, his brand is higher, now it's maybe more worth it. That's how I see things."
Comments
comments