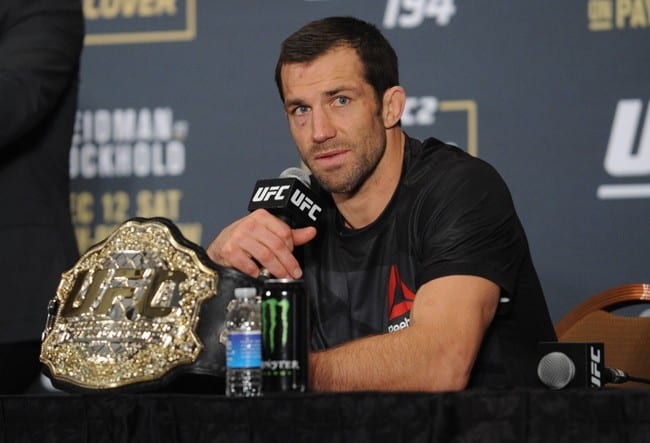 Luke Rockhold believes the fact the UFC's light heavyweight division only works in his favour as he heads up in weight to target a fight with Jon Jones.
Rockhold, former UFC middleweight champion, is set to make his 205-pound debut at UFC 239, on July 6 against Jan Błachowicz. The way he sees it, a good performance that night will likely push him towards a fight with Jones ( who fights Thiago Santos on the same night) and ahead of other contenders.
Either way, it's a fight Rockhold makes no bones about pursuing.
"I'd jump on that opportunity in a heartbeat," Rockhold said, speaking with Submission Radio this week I've been training as Jon Jones for DC for so many years and I know his style and like what we have here. So, I'm gonna go focus on what I'm doing here this summer and if everything works out, me and Jon will be dancing later this year or 2020.
"Thiago Santos just got a world title fight after beating Jan Blachowicz, so I figure if I go out there and put a performance on him, what's to deny me? I mean, what else is there? These guys are scouring around, not taking fights. So, I'm gonna go out there and I'm gonna perform and do my job, and then I'm gonna let the chips fall where they may."
While on paper, a Jones vs. Rockhold fight would likely see Rockhold as the underdog, the man himself believes training camp after training camp with Jones rival Daniel Cormier could provide him with the strategy required to dethrone the great.
"Why don't you ask DC what kind of problems I pose for him. I can strike with him, I'm no slouch in the wrestling game, and top of it, with the size I have now it's different," Rockhold said. "And I'm gonna give a lot more power, I'm gonna bring it on the feet, and I don't believe there's a man in this game that can fuck with me on the ground. When you start implementing punches and grappling, there's no one. I don't believe there's anybody who can dance with me in that realm."
Comments
comments