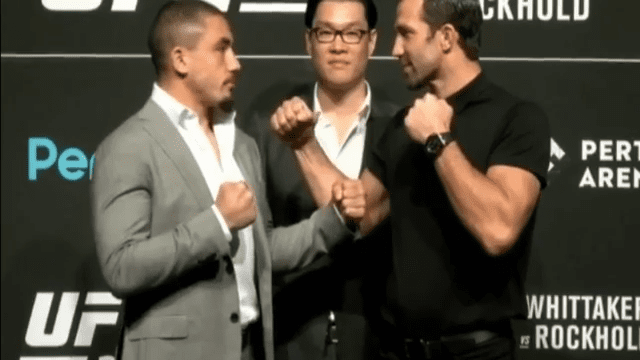 Neither Luke Rockhold or Robert Whittaker are known for their elite level verbiage ahead of fights. While both men have had some good lines in the past, the duo really prefer to do their talking once the cage door shuts.
Therefore, any interaction between the two has something of a complimentary feel to it. Scheduled to face each other for the UFC middleweight title at UFC 221, the pair met at a press conference to hype the event early this morning.
As expected, both were mostly cordial in their exchanges — if not friendly — but there were moments in which the competitive nature of both men shone through.
"I watched him out here when he made his first venture up to 85 and he fought on my card in Sydney. He came in explosive and powerful and he carried the weight well, that's what he does," Rockhold said "He's got great hands and he's got power and he covers the distance well. It's up to me to keep pushing him outside of that gap and don't let him play my range. If I pick him off on the outside he's going to [try and] close the distance. The problem is that if he closes it too much he's back in my world again. I think he's got a small room."
"Sounds like fun," Whittaker responded. "Like he said, we're not playing games out there. It's a game of inches and it's do or die out there. Yeah, this is what makes it so thrilling to watch and this is why the stadium is going to be sold out. The pay-per-views will be through the roof because it's a game of inches and there's a lot of tactics and strategies involved. I don't think he needs the inspiration to take the belt. Like he said, he's been the champ before and he knows that taste.
"He's done it before and I really look forward to getting the best out of Rockhold and testing myself. I think that's the goal of every fighter, to keep chasing the limits and pushing those boundaries. He's very high calibre and I just got to be aware. He's going to get the respect he deserves. It's going to be a hard fight, I'm sure he knows this, it's going to be a hard fight. We're going to put on a good show trust me."
—
Comments
comments