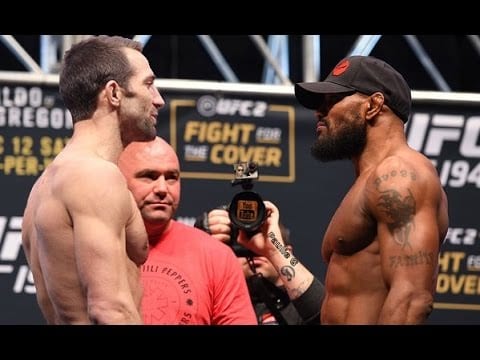 Yoel Romero and Luke Rockhold clearly felt like joining the current trend of UFC middleweight's throwing insults at each other.
Just a day after middleweight champion Michael Bisping and Chris Weidman spent the majority of their evenings Tweeting mean spirited words at the other, Rockhold and Romero followed suit.
Rockhold, for his part, seemed irked that Romero had turned down a five round main event against the Californian, while Romero revealed he was only returning the favour after Rockhold turned down a bout against him at UFC 205.
All in all, just another day in the life of a UFC contender.
@yoelromeromma you're the pussy that didn't wanna fight 5 rounds. September 16th was offered.

— Luke Rockhold (@LukeRockhold) July 24, 2017
Remember when you were champion and you said no to fight me? That was 5 rounds. Remember the last time you took the easy fight? #ynuevo pic.twitter.com/wZA0N1Q0e2

— Peoples Champ (@YoelRomeroMMA) July 24, 2017
I am FIGHTER. I am no promoter. You? Maybe model, maybe actor, maybe husband. You and @bisping same guy same eyes. Go back to hiding

— Peoples Champ (@YoelRomeroMMA) July 24, 2017
what you are is a cheater

— Luke Rockhold (@LukeRockhold) July 24, 2017
—
Comments
comments