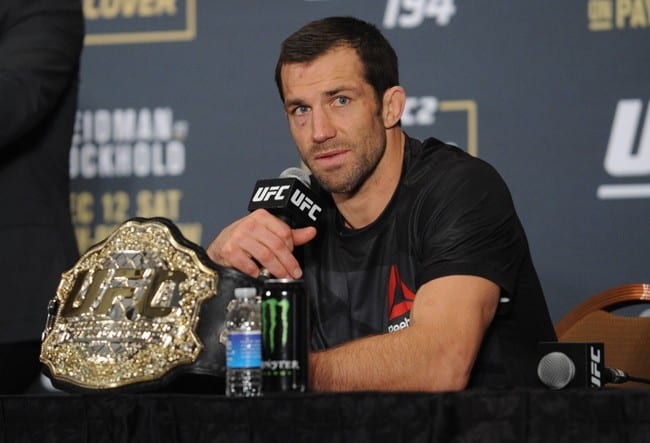 Luke Rockhold admits he's taking a long hiatus from fighting that could well become permanent after he's lost his desire to compete.
The former middleweight champion was last seen losing his 205 pound debut via a stunning knockout, but Rockhold believes his journey and attention to mixed martial arts was already waning long before that particular contest.
"It's not exactly what it used to be for me," Rockhold said, speaking to Submission Radio. "I feel like I rushed. I rushed things, I wasn't as relaxed, I tried to force an issue, an easier way out of the fight, which I thought would be a lot easier, then I got caught up in that style and I paid for it.
"So, I believe, obviously if I fought a different fight, it might be a different story. I just… I don't have the passion I once had. There's a lot of other things that go into fighting, politically, and everything else that goes behind it. So, I don't know. It's not the same as it used to be. I don't have the hunger and the passion that I used to have for fighting at this time, so I'm gonna take a break. Take a long break."
According to Rockhold, his interest in MMA started slipping once he reached the pinnacle of the sport, and while he knows it was a problem, he never managed to get himself back to where he was mentally.
"It's been going on for a while, I'd say. But I think once you reach the top, once you reach your goal, and that's in fighting especially, it's like there's a sense of relief," Rockhold said. "And coming down off that and trying to find the hunger and the passion to keep pursuing this lifestyle, which is fighting, it's tough. I don't know. I've been fighting for a long time.
"I was at the top of the chain with Strikeforce, but there was still that itch, the 'what if?', all the questions that everyone had. So, to go out there and prove myself in the UFC, to obviously take a hard loss from Vitor and climb back up and take it, it's a different mindset preceding and following that, and I don't know. I just… I'd say after that, at that point, it was a little different, everything was a little different."
Comments
comments