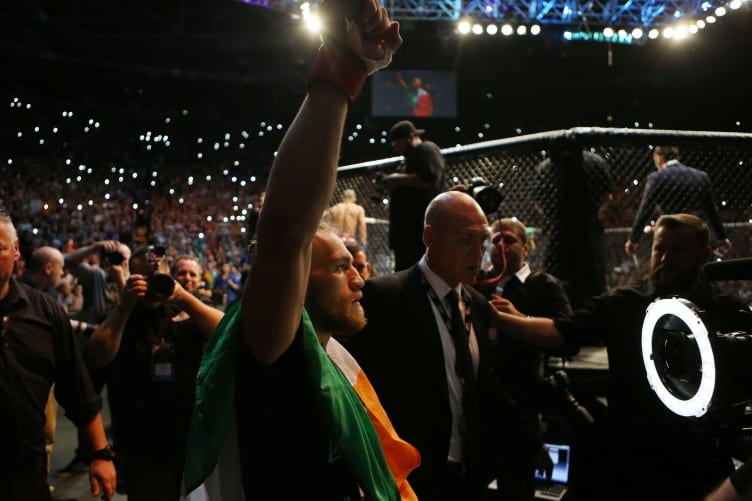 Last week's news that the UFC had decided to usurp its rumoured return to Dublin in May in favour of a trip over the pond to Liverpool was a blow to the Irish mixed martial arts community, however UFC officials aren't ruling out a trip to the Irish capital before 2018 is out.
The UFC hasn't held an event in Dublin since October of 2015 for a card which was devastated by injuries. The original main event (Poirier vs. Duffy) and co-main (Miocic vs. Rothwell) were both scrapped owing to injury leaving a headline bout of Paddy Holohan and Louis Smolka atop the card. Since then Dublin, one of the most vibrant MMA markets in Europe, has been largely ignored by the UFC.
MMA Fighting reported that Dublin was to host an event towards the end of May, though those plans were eventually put on hold in favour of a trip to Liverpool to capitalise on the current interest in local welterweight Darren Till.
However, all is not lost for Irish mixed martial arts fans as, per MMA Junkie, UFC executive David Shaw says that the UFC will be returning to Dublin "at some point."
"We're going to go to Dublin at some point. There's no doubt about that," Shaw says. "We'll also go to a variety of other cities — not only in the UK and Ireland, but around Europe. We'll get there, there's no doubt about that."
Since the UFC's last visit to Ireland, the landscape for Irish fighters has changed dramatically. Conor McGregor is the biggest star in the UFC and considered by the organisation as too big a star to headline a European non-PPV card. Paddy Holohan, Cathal Pendred, Aisling Daly and Neil Seery, all of whom competed at the last UFC card in Dublin, have all since retired.
Joe Duffy, another Irish native on the UFC roster, is currently rehabbing a shoulder injury and won't be returning to training until May. Artem Lobov is booked for New York on April 7th, which would likely have ruled him out of any card in late May in his adopted hometown. Several other fighters, notably Paul Redmond andPeter Queally, would have been strong candidates to compete on the card.
Per Shaw, several dates for the rest of the year remain to filled so Dublin isn't out of the question just yet.
"Our approach to the rest of the year is all kind of up in the air right now, so there's definitely a possibility we could go to Dublin," he said. "But we've also got a number of other things on our radar. We keep working hard on France, Russia is always a possibility, we want to get to Scandinavia again.
"At this point we don't have anything concrete to share but [Dublin] is always on the map. What Conor [McGregor] and [John] Kavanagh have done specifically in Ireland for our sport, we'll always be grateful for. It's always going to be on the shortlist."
In other words, don't hold your breath.
Comments
comments