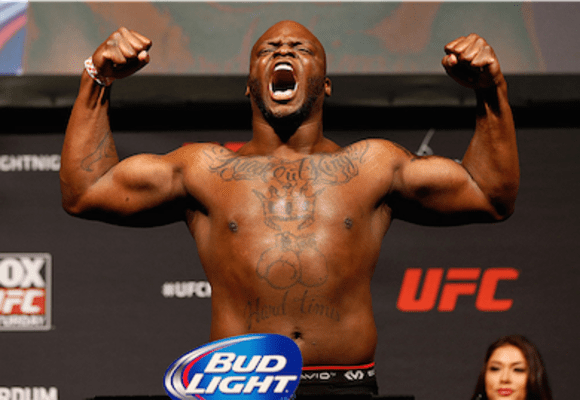 As a fellow media member stated, and eventually was forced to drink a 'shoey' as a result of his incorrect prediction of a first round finish (Hi Marc), the UFC 226 bout between Francis Ngannou and Derrick Lewis had all the signs of being a short, tempestuous and concussive affair.
In reality, it was anything but. A gun-shy Ngannou displayed the type of caution which infuriates Dana White and fight fans alike detest, landing just 11 strikes in the three round snoozefest, much to the surprise of everyone watching — along with Lewis himself.
"To me, whenever he stepped inside the Octagon, he looked scared from the get-go," Lewis said to Luke Thomas on Monday's edition The MMA Hour via MMA Fighting. "He wasn't the same guy that I saw at the weigh-ins. Like, his facial expressions and his emotions and everything, it wasn't the same. So all of that right there, that threw me off in the fight too, because I didn't believe that he was really that scared of me, but the look in his eyes, it really did show that he was scared."
The timid performance followed Ngannou's heavyweight title shot against then-champ Stipe Miocic last January, in which he was repeatedly timed and taken down. Many have speculated that the one-sided nature of that defeat mentally affected the fighter more than he, or his team, realised.
Whatever the reasoning, Lewis was perplexed in the cage.
"I was confused too. I tried to make him engage," Lewis said. "I did a couple of things to try to make him engage, and he just wouldn't do it. I tried to do a little bit more than him and it just was weird to me too, the whole fight, so I don't know. I don't know what was going on.
"I believe he was scared of taking a shot."
Lewis is slated to face Alexander Volkov at UFC 229, headlined by Conor McGregor vs. Khabib Nurmagomedov, and says that he hopes that he is never in a fight like that again.
"Never. Never," Lewis stated. "And hopefully it will never happen again."
Comments
comments