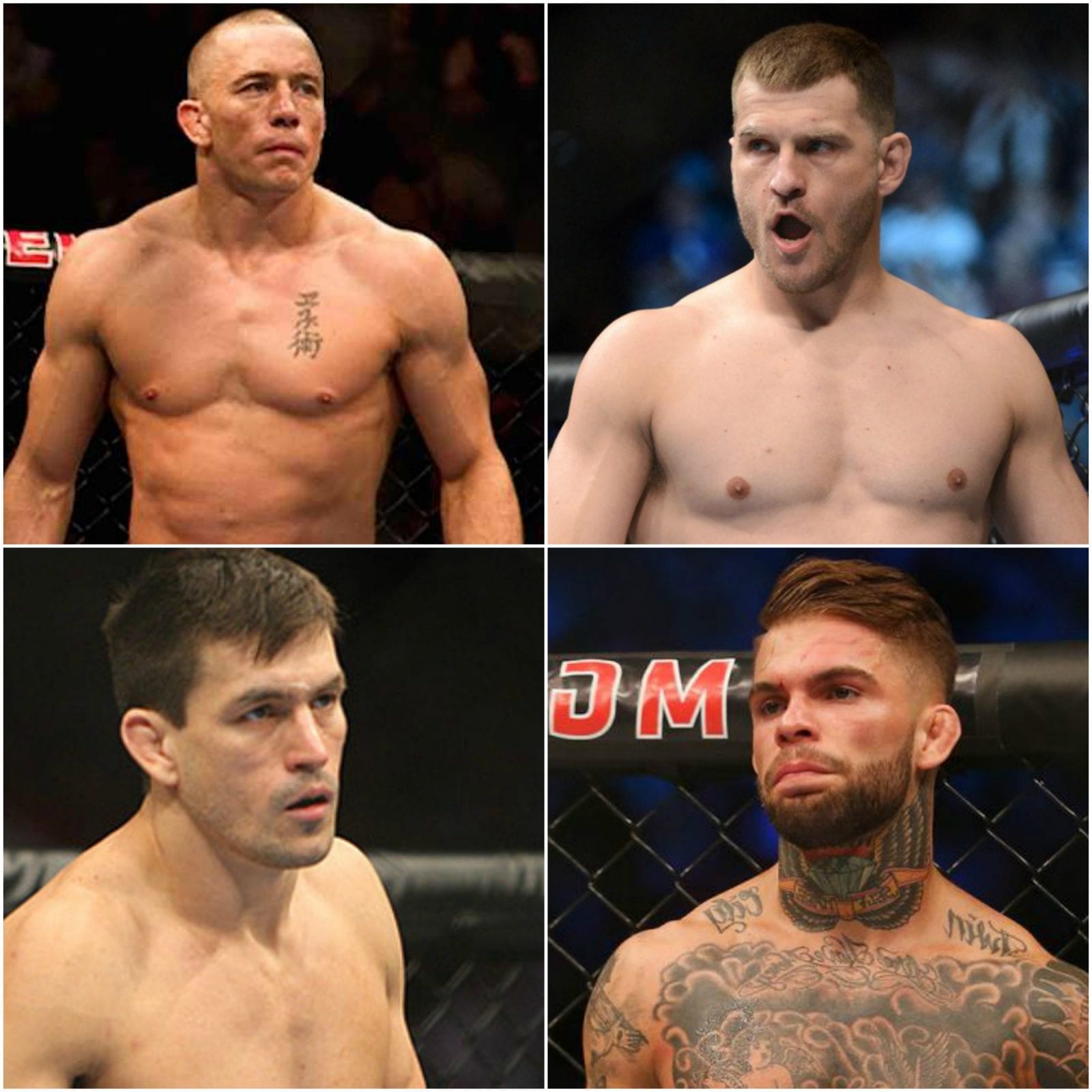 It's been a quiet few months for the UFC. 
Since last December, MMA's top promotion seems to have been struggling to find fifth gear, and various events held through 2017's first quarter have been fairly underwhelming.
Still, there is plenty to look forward to. As champions recover and get ready to defend their belts from challengers anew, the UFC's second half looks to hold some promise.
With that in mind, let's take a look at the top five incoming fights that have already been announced by the UFC.
Cody Garbrandt vs. T.J. Dillashaw – UFC 213, July 8
Who doesn't love a rivalry? Or to be more accurate, who doesn't love a rivalry where the skills of both involved seem evenly matched?
Ever since Garbrandt's stunning performance and victory to rip the bantamweight title from Dominick Cruz, the 25-year old has been the UFC's new golden boy, even meeting with WME/IMG brass ahead of any other on the roster. But, while that achievement was undeniably outstanding, Garbrandt's next challenge could be even harder.
Coming off the 25th series of the Ultimate Fighter (which appears to mostly revolve around (Dillashaw and Garbrandt's ongoing debate over how Dillashaw left team Alpha Male), there's plenty of hype for the contest.
Jose Aldo vs. Max Holloway – UFC 212, June 3
Let's be fair. The featherweight division has been in dire need of clarification for quite some time.
Ever since the UFC elected to take the featherweight title from Conor McGregor and award it to the man he defeated in 13 seconds, it's never felt quite right. Add in an odd interim title situation and it's all a mess that needs sorting out, and now Jose Aldo and Max Holloway are set to do just that.
The two will meet to determine who is the rightful featherweight champion (at least until McGregor decides to insert his own name into the mix once more). In Aldo, it's a man attempting to put his stamp back on a division that he once owned. With Holloway, it's a young contender aiming to prove he's the new ruler of 145.
Stipe Miocic vs. Junior Dos Santos – UFC 211, May 13
Back in December of 2014, Stipe Miocic and Junior Dos Santos fought in a brutal five round war that ended up with the Brazilian Dos Santos emerging victorious.
Since then, Miocic has gone on to prove himself as potentially the next generation of UFC heavyweight. Recently defeating Alistair Overeem, Miocic has improved with every showing ever since Dos Santos' hand was raised after their first contest.
This time around, Dos Santos is likely the underdog, having had a rough couple of years. This is his first shot at the title since Cain Velasquez beat him solidly on two occasions, and speaking candidly it's not an opportunity he would have expected to get, having swapped wins and losses with every fight since 2012.
Should Miocic win, he'll equal the record of most title defenses in the division (with two). But this is heavyweight, the weight class where logic leaves in the wake of big men with small gloves.
Demian Maia vs. Jorge Masvidal – UFC 211, May 13
While Joanna Jedrzejczyk could very well have made this list, there is something in the Maia/Masvidal clash that intrigues on a different level.
With welterweight champion Tyron Woodley supposedly back training for his next title defense, there are rumours a plenty as to who that defense could be against. Many are speculating that the winner of this bout could be pitched a quick turnaround, and leap right back into competition to meet the champion in July.
Competitively too, there's something on offer here.
Maia is on a six fight win streak at 170, and looks to be more impressive than the last. Masvidal enters this bout on a stunning beat down win over Donald Cerrone, who himself looked to be a title contender in the making. Will Masvidal be able to stop the smothering jiu-jitsu of Maia, or will he be able to keep the fight on the feet and unleash his ferocious boxing?
Michael Bisping vs. Georges St-Pierre – Date unknown
Yeah, this one's potentially a controversial choice.
Firstly, there's no date confirmed. Secondly, St-Pierre has jumped over about five other more worthy contenders in a division that's not even his own. Thirdly, it's the second bout that middleweight champion Michael Bisping has defended his title against an… unusual challenger.
All that being said, however, and this is still a fight worth watching. St-Pierre supposedly has a 'plan' in his head about what he wants to achieve with this return, and all signs point to it ending with a fight against Conor McGregor, and the fact he makes his return against a bigger, larger man adds a challenge perhaps unseen by the former welterweight king.
Plus, if you find Bisping to be an irritant now — wait until he's able to say he's the first man to beat both Anderson Silva and Georges St-Pierre.
Comments
comments