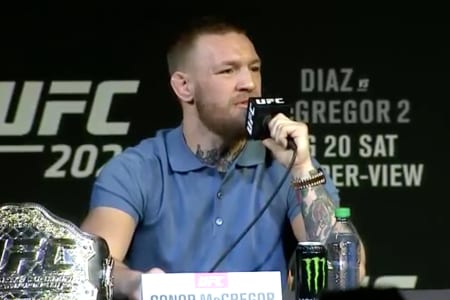 Conor McGregor has wasted little time in reigniting his rivalry with the Diaz clan following this week's news that Nick Diaz is considering a return to the Octagon after a near six-year absence.
The elder Diaz has completed an intensive 14-week training program and conducted a test weight-cut, according to his manager Kevin Mubenga, and is currently somewhere around the 165 to 175-pounds range. The 37-year-old former UFC title challenger is understood to be keeping a watchful eye on the UFC's welterweight division — where the likes of Stephen Thompson, Leon Edwards and (middleweight) Darren Till have already hinted at their interest in a potential fight on social media.
One man, though, who has history with the Diaz brothers, Conor McGregor, has also inserted himself into the conversation.
Line them up

— Conor McGregor (@TheNotoriousMMA) September 8, 2020
Reacting to a social media post hailing the return of the 'Diaz army', McGregor wrote simply: "Line them up."
McGregor, of course, has had a two-fight series with Nate Diaz — the last of which came in August 2017 which was won by judges' decision by the Dubliner months before his title-winning performance against Eddie Alvarez in New York City in which McGregor became the first UFC fighter in history to hold two championship belts consecutively.
A third fight with Nate has long been thought to be something which interests both parties but it seems that this has now also been extended to the elder Diaz, at least judging by McGregor's social media blast, despite announcing his retirement from the sport earlier this year.
Diaz is understood to be contemplating his return in early 2021, leaving plenty of time for developments for what would be the former Strikeforce champion's first bout in the Octagon since a January 2015 clash with Anderson Silva — and regardless of who he faces on his return, you can expect there to be some serious fan interest if and when it happens.
Comments
comments