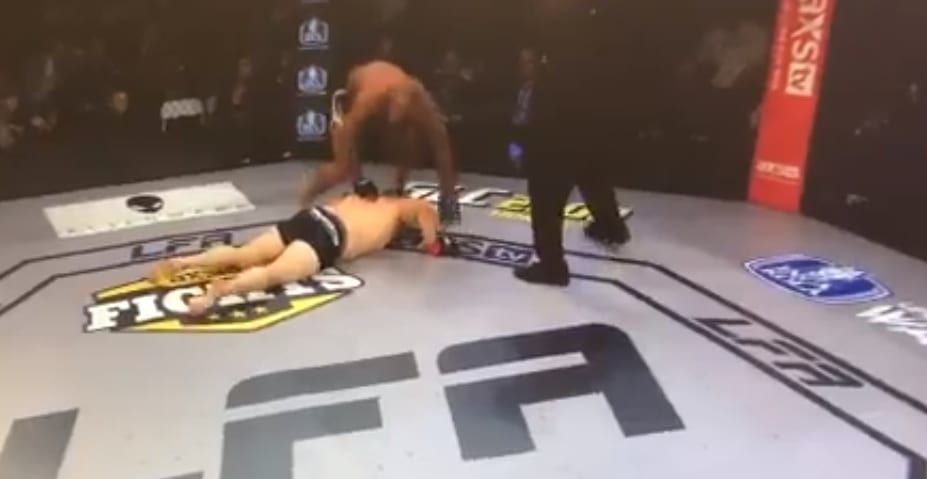 Drew Chatman, the LFA heavyweight who went viral for all the wrong reasons last weekend, has apologised for performing a front-flip from unconscious opponent's back immediately after a knockout win at LFA 36. 
Chatman was subsequently disqualified from the bout for striking his opponent after the stoppage, a decision which Chatman — whose nickname is 'Honorable' — agreed with.
In an interview with MMAFighting.com, Chatman expressed his remorse for the incident and agreed entirely with his disqualification, blaming the bizarre incident on a rush of post-fight adrenaline.
"I threw a kick, he tripped me and as he came down, I moved my knee in a certain position and he had hit his chin to my knee," Chatman said, explained the finish of his fight with Irvins Ayala.
"At that moment, it happened so fast that my instincts just kicked in and I started punching. As he fell down to the floor, it was almost like I couldn't believe he was out, because it happened really quick. My natural reaction was just to get up.
"Normally, I celebrate my fights. If you see all my amateur fights, I'm doing flips, I'm doing cartwheels or whatever the case may be. I didn't think before I did it. I just jumped and did a flip. So it was almost like subconsciously I did what I normally what I would do celebrating a victory that I normally get."
So this happened after we went off air from #LFA36 last night. Thoughts? pic.twitter.com/WNlrNA9Za1

— AXS TV Fights (@AXSTVFights) March 24, 2018
Per MMAFighting, Chatman has received a 90-day suspension as a result of the incident. He has also had his fight purse withheld, with CSAC official Andy Foster explained the disciplinary measures as being as a result of striking his opponent after the fight, unsportsmanlike conduct and striking an opponent who was in the referee's care.
Chatman, to his credit, accepts all responsibility and says that all punitive measures are entirely deserved.
"Let me be honest with you, man," Chatman continued. "I don't deserve to get paid for that. It's disappointing watching that. My mother has to see that. People that look up to me and see me become an inspiration to them have to look at that. Even though I'm not a champion so to speak, but I overcame a lot of things and I became something that I never thought I would become. Just to have my first pro fight is crazy, because I didn't think I'd ever be on this level. It just happened so fast.
"So, the rules are the rules. And at the end of the day, when you actually look at what took place, I'm OK with having my pay taken away. I'm OK with being suspended 90 days. I'm OK with that. Because you can't get that back. The video is priceless. I have to look back at that and live with regret every single day."
Chatman also reserved an apology for his opponent, Irvins Ayala, who has become the fodder and unwitting accomplice of one of the more unusual viral videos of the year.
"I want to apologize to Irvins Ayala," Chatman stated. "He was a good opponent. And he brought the fight to me. And he had a lot of heart. It was not a good move on my part as a martial artist. And I want to apologize to the California athletic commission, because they laid down the rules, they gave a great understanding and they do their job very well. Also, to Legacy, LFA, because they gave me a great opportunity to display my skills and it was a good platform.
"I'm not gonna play the victim here, because when you look at it the real victim here is Irvins Ayala. Let's just be real. He showed up, he fought. It was an unfortunate mishap, but it did not have to end that way. All this publicity, all this media, the reality is I was wrong and I ain't trying to gain no fame off of this, because I'm a martial artist."
Comments
comments