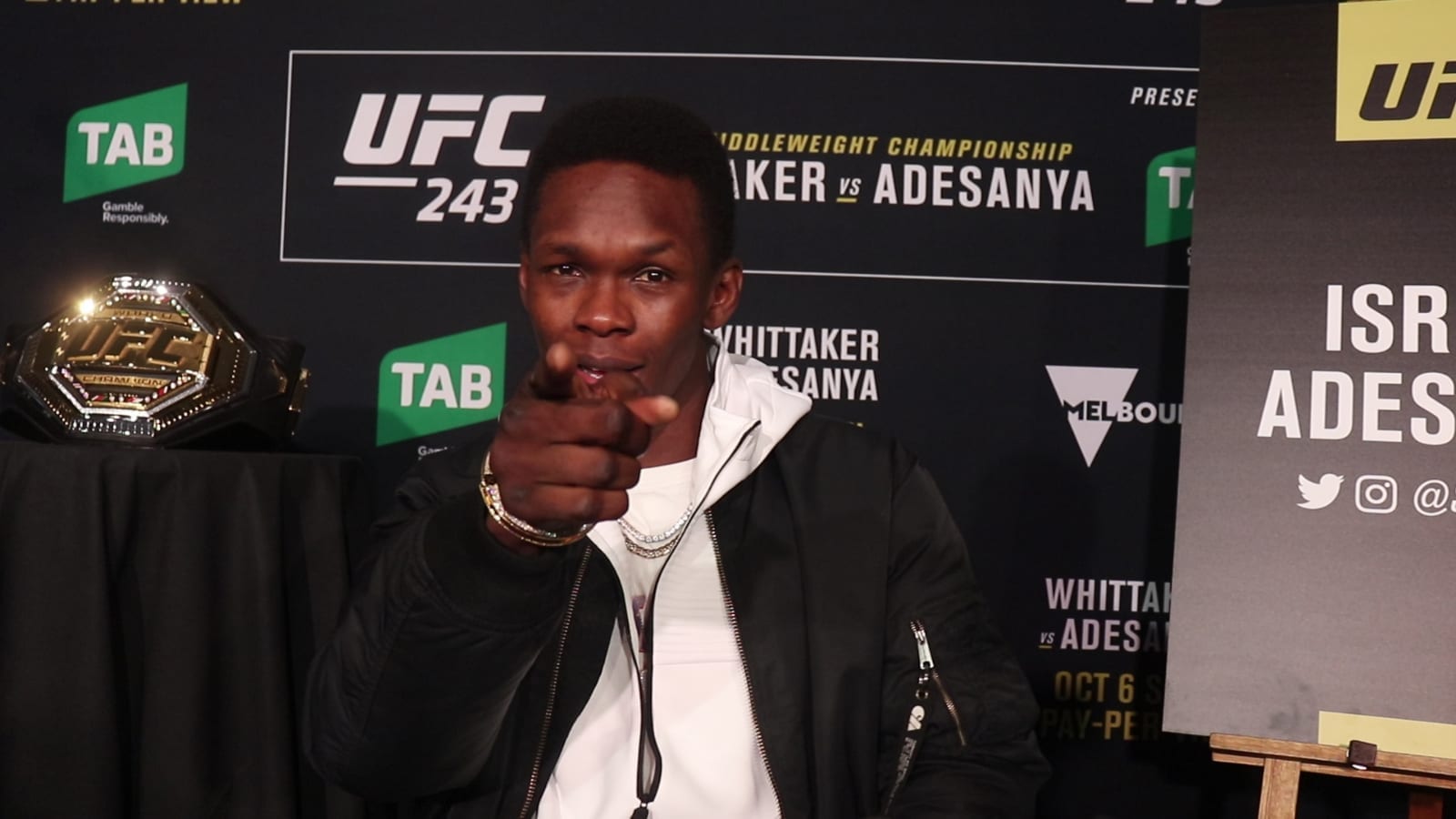 Newly-crowned undisputed UFC middleweight champion Israel Adesanya says that he is taking note of Jon Jones' recent comments towards him, but he isn't letting any potential future matchups distract him from the task at hand.
Adesanya ushered himself into rarified company on Saturday night in Melbourne, defeating Robert Whittaker by second round TKO and potentially becoming the UFC's latest crossover superstar in the process. However, with a brand new target affixed to his back so long as that gold belt rests around his waist, all manner of extra attention is coming his way — and some of it, in Jones' case at least, is coming from an entirely different division.
The prospect of a Jones vs. Adesanya 'super-fight' is a tantalising one, to be sure. Both men are essentially undefeated in mixed martial arts competition with both men employing contrasting, but seemingly equally efficient, strategies to win their bouts. Styles, they say, make fights and that is certainly true when it comes to the chatter of a potential clash but Adesanya says that talk of a fight with Jon Jones will have to wait — for now.
View this post on Instagram
"He is jealous," Adesanya said of the light heavyweight champion on Ariel Helwani's MMA Show. "He sees the freshman that's taking all the shine. He sees the guy that's the new dog in the yard, and they're intimidated. They're jealous. They don't know how to act. He's always been a fan. He's still a fan, I know he's a fan. He's always trying to do what he does, and I'm like just wait your turn."
First, he says, must come the next man up at 185-pounds, thought to be fellow undefeated fighter Paulo Costa.
"I'm not going to be one of those guys that doesn't defend his belt," Adesanya continued. "I'm going to defend my belt actively. I'm not going to be like him  and fight twice a year. They're all trying to copy my (expletive), so let me just defend my belt first, and then I'll move up, and I come f*ck him up."
With plenty of people willing to take him up on that offer in the middleweight division, Adesanya predicted exactly when and where he'd be ready to move up and challenge Jones at 205-pounds.
"I've planned everything from the jump. I've showed everyone this is what I'm going to do and this is how I'm going to do it, and I already said 'Raiders Stadium, Las Vegas, 2021."
Comments
comments