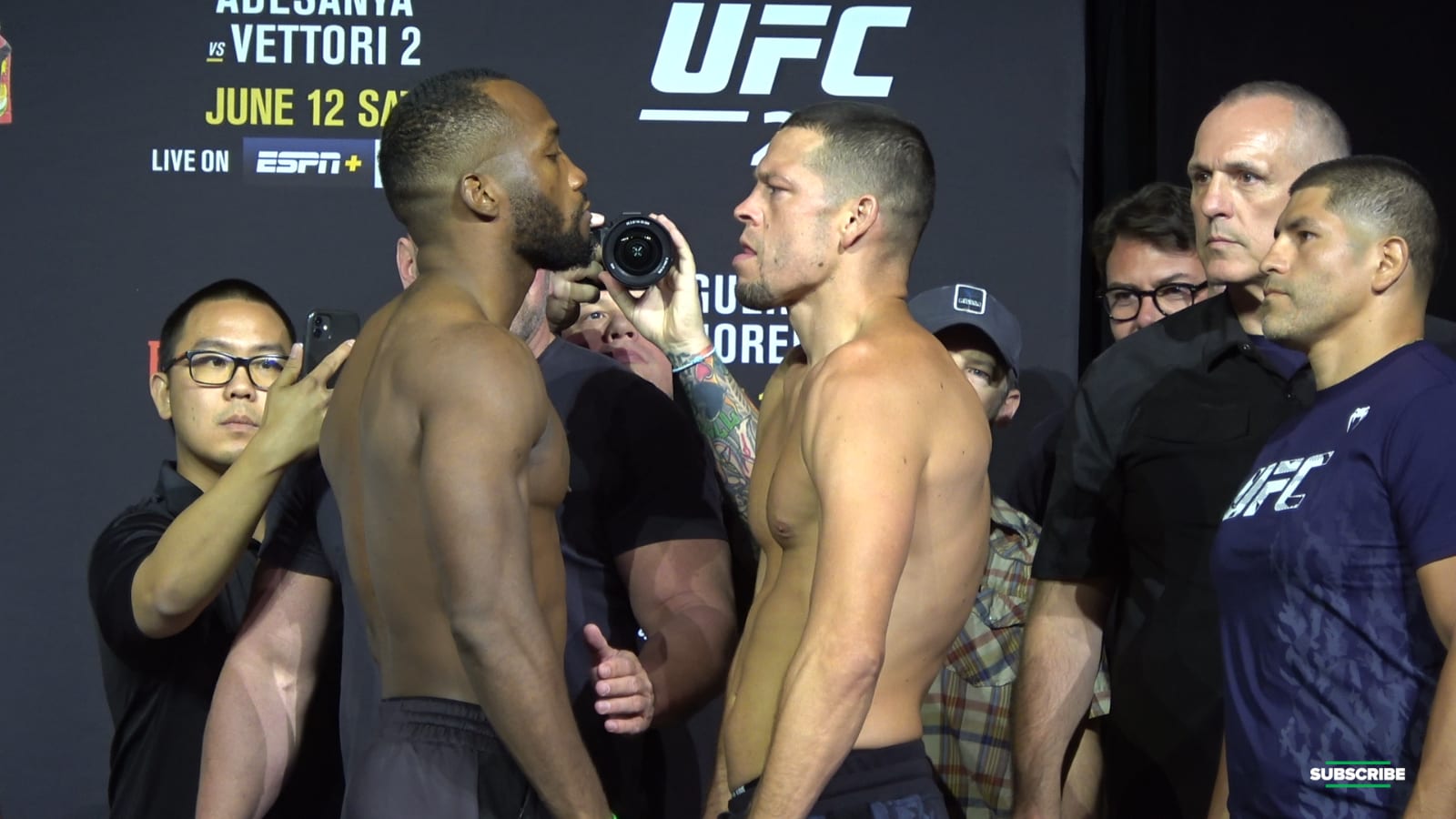 Michael Bisping knows all too well the difficulties in securing a UFC world title shot. 
Up until Charles Oliveira's capture of the vacant title earlier this year, Bisping was the fighter who had the most fights on his UFC record before earning an opportunity at the title — something he grab with both hands (and a couple of left hooks) when he defeated Luke Rockhold in their short-notice world title fight several years ago.
And Bisping says that Leon Edwards performed admirably against Nate Diaz at UFC 263 last weekend, but that he might not have done enough to force the UFC's hand into giving him a title shot he craves.
" Leon Edwards, what are you doing?!" Bisping said on his Believe You Me podcast. as noted by MMA Fighting. "What are you doing? He dominated that fight – don't get me wrong, Diaz is so tough and he made it so entertaining the whole time, every time he was messing around, turning his back, and all the antics and talking to him. Diaz is so tough and he makes every fight exciting.
"That's why he's got so many fans but Edwards was dominating that fight and it was almost like he couldn't do anything wrong. When they clinched, he took him down with authority, beat him up on the ground, opened him up with those crazy elbows, kicked the sh*t out of his leg…. But then he f*cks up in the fifth round and almost gets knocked unconscious.
View this post on Instagram
"This is not the worst for Leon Edwards, because obviously the worst scenario would be had he got knocked out or lost the fight, but Leon needed to go out there and beat Nate Diaz, take all of his fans, and then become a household name in mixed martial arts. Unfortunately, now the narrative isn't all about the four-and-a-half rounds of extreme dominance that Leon Edwards put on him…. but the narrative now is that had there been one more round, Nate would have knocked him out. Had this been on the street, Leon would have been done for. Now the narrative is 'I can't wait to see Nate Diaz.' Yes, Leon went out there and beat him but they're all talking about Nate Diaz.
"I feel for the guy. He's just kind of – it's not bad luck. You can't call going out there and beating Nate Diaz by a dominant decision, 49-46, that's not bad luck. That's a great night at the office. It is! It's so Leon Edwards, it's unfair! The guy is on a 10-fight unbeaten streak, he's got all the momentum, he's beaten great fighters and he just beat Nate Diaz but at the end, people are talking about Nate Diaz and how tough he is.
"He needs a finish. He's got to get a finish. And I can't say that, I had plenty of decisions. I'm not saying that from a negative standpoint, but it would have shut up a lot of people. It would be a very different discussion right now had he finished Nate Diaz. I just feel for him because it's almost not fair, which you don't say that in fight sport. Everyone is talking about Diaz and how tough he is and the rest of it and they're not talking about Leon who kicked the sh*t out of him for four and a half rounds!"
Comments
comments