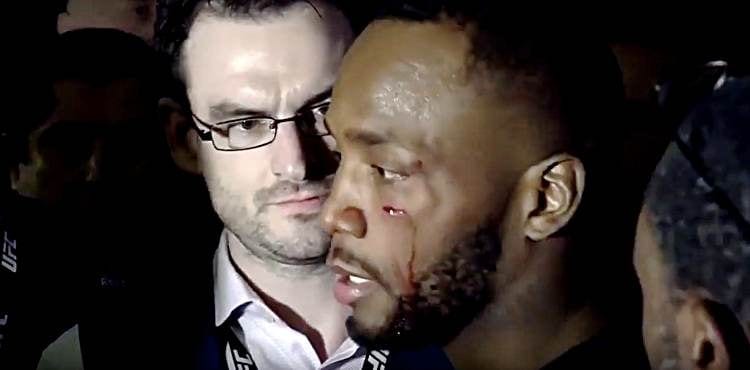 Days after Chael Sonnen declared that Leon Edwards must make himself more 'interesting' in the eyes of MMA fans, it seems that the Englishman may have heeded some of this advice.
Edwards, who you will recall was involved in a backstage altercation with Jorge Masvidal in London last year, has long attempted to secure a fight which will propel him towards a title shot at 170-pounds but fate has conspired to interject on several occasions. A London headliner with Tyron Woodley was scrapped to the COVID-19 pandemic earlier this year, while he was forced to turn down a short-notice world title fight against Kamaru Usman on 'Fight Island', with the fight instead going to Masvidal.
Now, though, Edwards appears resolved to stop his pursuit of a fight inside the cage with Masvidal — because outside of the cage will do just as well.
"I feel I deserve one of these top five guys, if not a big name in the sport," Edwards said in an interview with Submission Radio (via MMAFighting).
"So, yeah, I've been on the UFC now since March, trying to get a name in and trying to get a fight in, but it's always, it was hard for me during lockdown. Everyone else in the top 15 are based in the US. I'm the only one in the top 15 that's based in the UK. So, it's way easier for the UFC to match them guys up, cause they're based in the states, and I couldn't travel cause of visa issues, and obviously you couldn't get into America from the UK.
"So, it's been frustrating and it's been annoying. But my time will come and I will be the champion and I truly believe that, you know what I mean, so it's all good."
As for Masvidal, Edwards says he is "over it".
"He's come out and said he doesn't want none of the smoke with me, he'll only fight me for that world title. So, I'm kind of over it now," Edwards said. "He doesn't want to fight. So, when I see him, we'll be on site fighting, and he knows what it is when we see each other.
"It is what it is. You cannot force a man into a fight, right? If he says he don't want to fight, you can't. Nothing you can do to force him into it. I want it, the UFC want it. He keeps saying he doesn't want it. So, what more can I do?"
Comments
comments