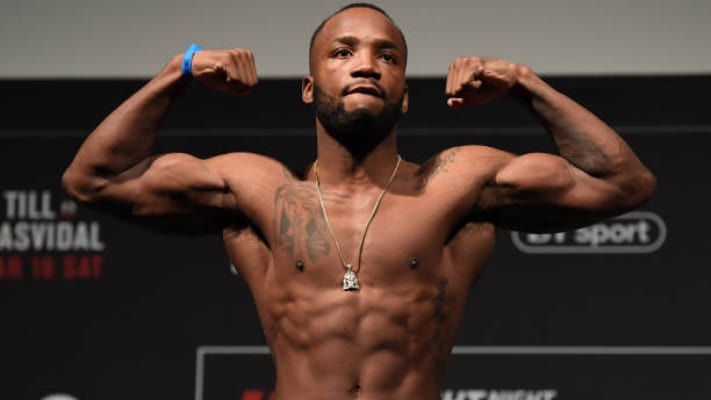 UFC welterweight champion Leon Edwards says that it is inevitable that he will one day throw down with old rival Jorge Masvidal.
The two warring welterweights appeared to be on a collision course back in 2019 after they clashed backstage following a UFC event in London, with Masvidal famously describing the scuffle as him offering Edwards a "three-piece and a soda". But despite the advances of UFC matchmaking officials at the time, Masvidal quickly distanced himself from the potential fight and instead sought out Ben Askren en route to an eventual world title shot against then-champ Kamaru Usman.
Since then, though, Masvidal's results have suffered and he has dropped three successive bouts — twice to Usman and once to Colby Covington. Edwards, by contrast, has extended his winning sequence all the to becoming the first fight to defeat Usman in the Octagon, claiming his first world title in the process.
And amid of a title defence and trilogy bout with the American in London in March, Edwards has kept the receipts from that initial clash with Masvidal almost four years ago and says that he will get his payback one way or another.
"That's a fight that I need to happen and has to happen, even on the street or in the Octagon," Edwards said of Masvidal to talkSPORT. "That's a fight I feel needs to happen. Not just for me, but for the fans to see the difference in skillset and everything.
"You know, he's coming off a three-fight losing streak, it's difficult to [make that] fight. I would have loved him to have a fight in December or something, get a good, top-five win. Then I [would have] fought him in March. I would have pushed Usman back to the summer and fought him in March."
Masvidal has remained absent from the cage since his defeat by Covington last March and remains facing legal issues as a result of a clash between the pair outside of a Miami restaurant just weeks after their bout at UFC 272. Edwards, meanwhile, has risen to the very summit of the shark-tank UFC welterweight fold and currently boasts one of the most impressive unbeaten sequences in the UFC — 11 fights across more than 7 years.
But one suspects that regardless of rankings, the run-in in London all those years ago still grates — and he is more than keen to set the record straight as to who he feels is the championship calibre fighter among them.
Comments
comments