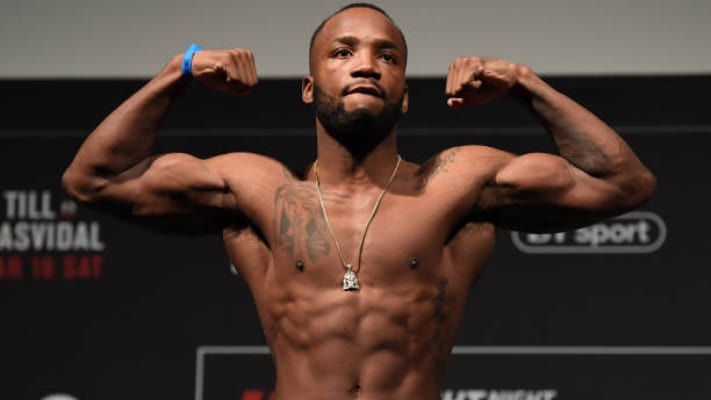 Leon Edwards wants to make as much bank as possible while it is his time in the sun.
Things move quickly in combat sports. Today, Leon Edwards stands as UFC welterweight champion and is the only man to have defeated Kamaru Usman inside the world's largest mixed martial arts promotion. But a wise man knows that success in this sport can be fleeting — just ask Usman.
Edwards is expected to rematch Usman in the first quarter of next year in what will be a trilogy fight between the two and with the scores now tied at one win apiece, but by the time Edwards makes the walk to the cage in a fight he expects to take place in the United Kingdom he wants his bank balance to look a whole lot healthier to reflect his current status in the UFC.
"I need a new [contract] now, 100 per cent," Edwards said, via The Mirror.
"[We haven't discussed one] yet because as far as dates and fights, that normally happens when you talk about fights because you use the fight to negotiate the contract. When it's time to start talking about the fight and the date of the fight, we'll start negotiating a new deal and go from there."
Edwards signed his current contract ahead of a cancelled UFC London main event fight against Tyron Woodley but has since wracked off high profile wins against both Nate Diaz and Usman — victories which propelled Edwards towards superstardom.
If the UFC want evidence of how popular Edwards is — especially in the United Kingdom — all the UFC have to do is to book the Usman rematch to take place inside the 90,000 capacity Wembley Stadium and they will see first-hand exactly how valuable he is to the promotion.
"I think mixed martial arts has grown so much in the UK and it's been waiting for a show like that to happen in Europe. Now you've got a world champion from the UK I think it's the perfect time, especially with all the other [British] fighters doing well in the sport I think now is the time to do it, to keep growing MMA in this part of the world."
And as for how their trilogy bout will go? Edwards suggests that the vicious KO he delivered in Salt Lake City to win the title will have permanently changed how Usman approaches his career.
"That bad of a knockout does play an effect on you," Edwards said. "
He might just go straight wrestling and think 'I'm not even risking striking with nobody anymore' and just go back to that boring Usman in which he just holds people against the cage. know [the loss] plays a part in his mind so I'd love to see how he approaches it when we do fight again."
Comments
comments