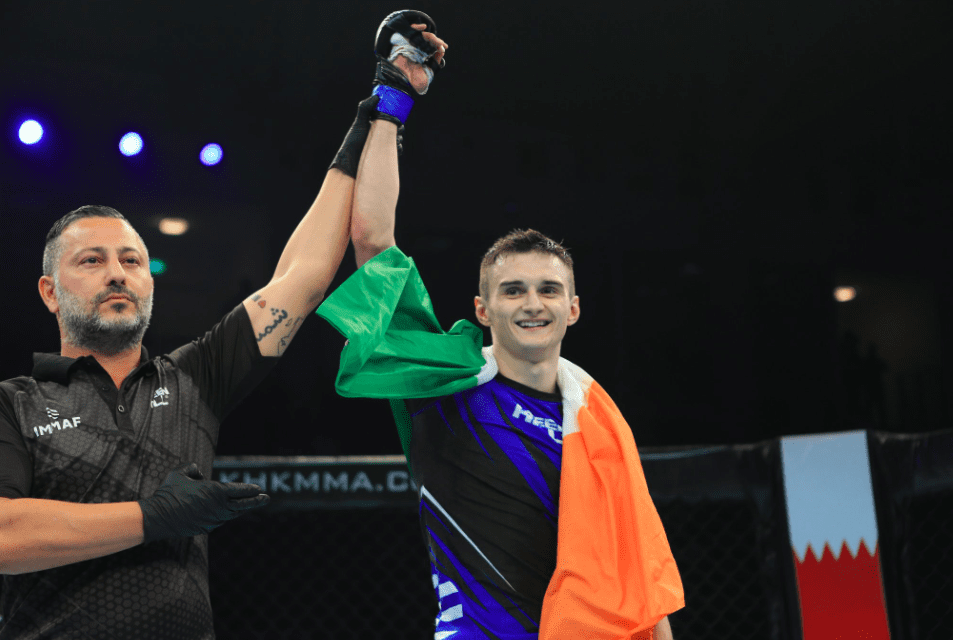 SBG's Lee Hammond has claimed gold in the lightweight division at the International Mixed Martial Arts Federation World Championships in Bahrain. 
Hammond prevailed over fellow finalist Marko Sarasjarvi of Finland, winning the contest via split decision. He won all four of his bouts this week, including the 'hammoplata' finish in his first round match-up which went viral across the web.
The IMMAF World Championships is the most prestigious amateur tournament in the sport, serving as a proxy for how mixed martial arts may one day be adopted by IOC if they heed calls to introduce MMA as an Olympic sport.
Lightweight Final RESULT
Lee Hammond (IRE) Def Marko Sarasjarvi (FIN) via Split Decision#MMAWorlds2018 #Baharain #Manama pic.twitter.com/J2goI2opwg

— IMMAF (@IMMAFed) November 17, 2018
Hammond's SBG teammate Conor McGregor was obviously pleased at the result.
You little fucking daisy

— Conor McGregor (@TheNotoriousMMA) November 17, 2018
More than 12 months ago Hammond was set on competing at the 2017 iteration of the same tournament, in which he was considered among the favourites to win, but was forced to withdraw when he suffered a serious injury in training. A year on and with the gold medal hanging from his shoulders, he said that he used that experience as motivation to go all the way this year.
"Just over a year ago I had a near-death experience on the mat," Hammond said post-fight in Bahrain. "Every night since then I pictured this."
Several winners of the gold medal in recent years have gone on to fight at the very highest level and it is expected that Hammond's win may be the entry point for a successful professional career of his own.
Elsewhere on Team Ireland, Ryan Spillane also won gold after his opponent was unable to compete in the final match. Ger Harris won the Jr. Flyweight final while Trevor Makengo and Paddy Wilkinson claimed silver.
— Cian Cowley (@CianCowley) November 17, 2018
Hammond's win caps not just a great week for him but also for SBG Ireland, as Hammond's close friend and training partner Cian Cowley moved to 2-1 in his professional career with an outstanding performance in a first round TKO finish of Hardeep Rai and Brace CF 18, also in Bahrain.
Comments
comments