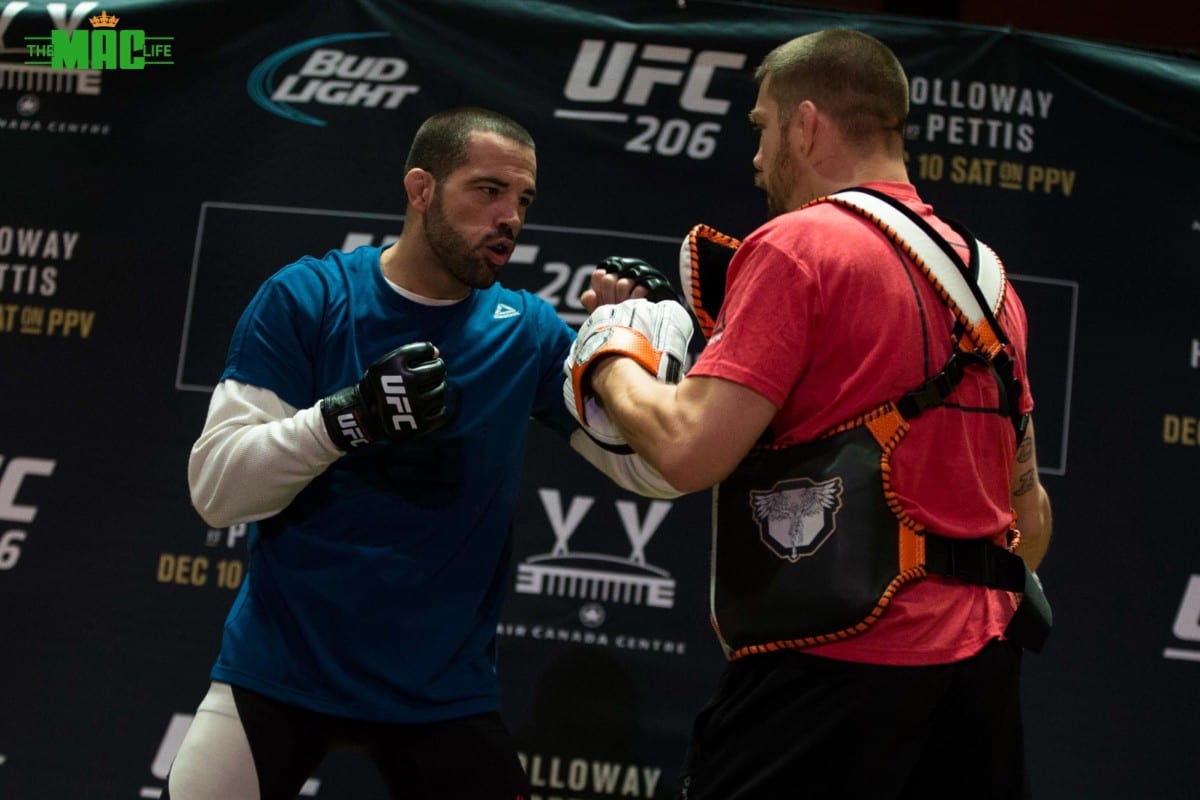 Not everyone Cerrone faces chooses to get chummy with 'Cowboy'.
Specifically emphasising that they were "never friends," Brown cuts a picture of an intense figureduring his media scrum as he heads into Saturday and UFC 206. While the manner in which they did, and the time spent doing so varies from accounts, Brown and Cerrone have trained together before, and as such the bout seems to be taking an interesting dimension as fight night approaches.
"I don't think it makes a difference," Brown said, regarding his and Cerrone's training together. "Some people might have a mental advantage in that aspect, but there ain't no secrets in this game and there ain't no secrets in what Cerrone does, and there ain't no secrets in what I do so we'll go in there and go to battle either way. Once that bell rings it's the same shit."
Another (slightly bizarre) factor is the state of Cerrone's left eye.
The welterweight has been seen with a bruised and damaged eye at every public outing he's gone on, ever since posting a video to Instagram of a hugely gashed eye and claiming the bout was still on. While the eye's damage seems to have shrunk with every day thats passed, Cerrone maintains it's a legitimate injury, although no one seems to know the truth.
For Brown? Doesn't matter; going to punch it anyway.
"That's irrelevant to me," he said. "Yeah, I've had some people call me, tell me that he's got a bad eye, but whatever, I'm gonna punch him in his eye whether it's bad or good. I'll make it worse, but it's pretty much irrelevant."
While Brown seems to have more of a dislike for Cerrone than the other way around — even going as far as to call Cowboy 'overrated', his opponent was typically relaxed in his reply.
"Maybe I am overrated Matt, expose me," Cerrone responded. "It's your chance, buddy. I tried to say what's up to him –all my team's training him, all my guys from Colorado are his coaches — so I went and saw him yesterday and tried to say 'what's up, Matt'; he kind of gave me the cold shoulder and walked off.
"Come on man, we're not fighting until Saturday, we can still be cool."
Comments
comments