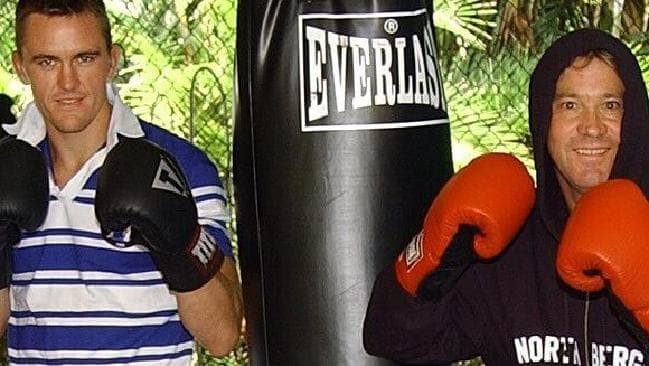 Kyle Noke might have had his own successful career at the top level of mixed martial arts, but one of the most interesting aspects to his story is the fact his fighting skills brought him into the world of the 'Crocodile Hunter' Steve Irwin.
Noke was recruited by Irwin as part of his personal security after the Australian television icon became fascinated with mixed martial arts and wanted to train with someone who had abilities of their own. And according to Noke, who spoke on a recent episode of the GrangeTV podcast, Irwin was so interested in the combat sport, he was willing to walk away from his lucrative TV work.
"We used to train at the zoo every morning … He actually built us a cage at the zoo to train in," Noke said. "He loved it that much, at one point, he was willing to throw his whole career away just to have a fight and then we came up with the idea of having a charity fight — which still wasn't okay with his producers at all. They still didn't want it.
"But I remember he made me go to the movies once … He said, 'We're going to watch a movie, it's the Pacifier with Vin Diesel'. That's a kids movie. He said, 'Yeah, I wanna fight him though so I wanna size him up and see what he looks like.
"So we went to watch The Pacifier — one of the worst movies I ever saw — but the whole idea was to size Vin Diesel up for a fight. He originally wanted to fight Wesley Snipes, but then he found out Wesley Snipes was small so after that it was Vin Diesel, let's go."
And naturally, with Irwin's outgoing personality, Noke has plenty of anecdotes about their time training together.
"One day we're sparring at the gym and he's like, 'You know what? I'm not feeling this fucking technique. I'm not feeling the technical.. what if someone just fucking comes at you swinging like you're in a pub brawl or something?" Noke said. "I said, 'Yeah you know, you might get a couple of shots off but if you be more technical, you're gonna win.' He said, 'Alright then. I'm gonna come at you hard like a pub brawl, and you do the technique'.
"I was still fighting at 77(kg) so I would have been about 80-odd kilo and he would have been 100kg and something. So he came at me swinging, and I just sort of sit back and hit him down the middle, hit him a couple of times, dropped him to a knee. He'd get back up and go 'alright, let's go'. Go again, hit him again and after a while he'd say, 'Alright I can see it now, let's go back to the technique'."
Eventually, Irwin famously died after he was stabbed by a sting ray during a filming accident. A year later, Noke moved to the United States to follow his dreams of becoming a successful fighter, but notes that should Irwin have lived, he would likely have remained in Australia as much as possible.
"No matter what he done, he was passionate about it, and he didn't like anyone who didn't have a passion," Noke said. "But to be around that, and his passion for wildlife would feed my passion for mixed martial arts. So to be around him and feel all that energy he was giving off was a phenomenal thing, so I think I would have always been drawn to stay between here and America, but after he passed, it really kicked me in the butt [to say] if I want to make the best out of this, I wanna move to America and give it a hundred percent shot."
Comments
comments