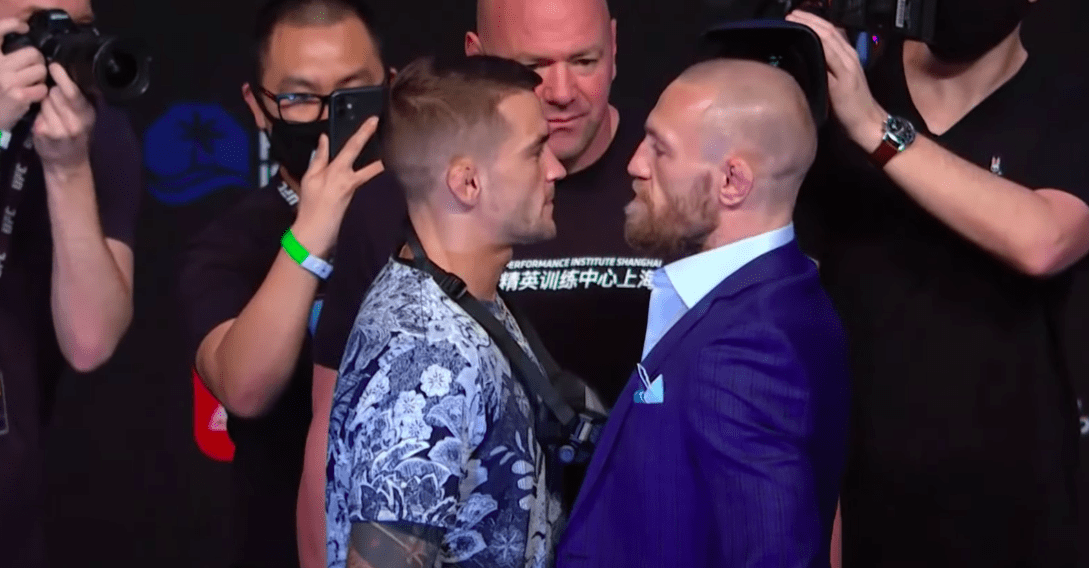 For the first time in more than six years, Conor McGregor and Dustin Poirier came face-to-face at Thursday's press conference ahead of their UFC 257 headline fight in Abu Dhabi late this Saturday night.
Whereas last time's presser was punctuated by back-and-forth vitriol between the two men (as well as Daniel Cormier and Jon Jones' hotel lobby brawl), today's scenario was a whole lot more of an agreeable occasion with neither man slinging the type of insults which permeated the build-up back in September of 2014.
As he has done in much of his media obligations this week, McGregor was keen to pay tribute to Poirier's ascent through the sport since his first round defeat to McGregor in Las Vegas all those years ago. Both men are now fathers, something which can immediately alter the prism through which you observe life, and with his money made and his legacy secured this fight comes complete with a different flavour entirely.
During the opening exchanges of the presser, Poirier confirmed that McGregor's promotional team, McGregor Sports & Entertainment, had reached out to his 'Good Fight Foundation' with regard to the donation promised by McGregor which Poirier says will be used to provide facilities to underprivileged people in Poirier's area.
"I don't want to make it look like we are up here giving each other back massages," Poirier said. "But I just want to clear the air, Conor and his team, McGregor Sports & Entertainment, did reach out to my Foundation.
"They are starting the donation to the Good Fight Foundation and we have huge, huge plans for that so man-to-man, you're going to help a lot of people."
But when it comes down to business, neither McGregor nor Poirier flinched when it came to the staredown.
.@DustinPoirier vs @TheNotoriousMMA! #UFC257 is LIVE Saturday on @espn+ PPV #InAbuDhabi @visitabudhabi pic.twitter.com/RAkSUMUJNc

— danawhite (@danawhite) January 21, 2021
"You know what's going to happen," says Poirier.
"Yeah it is on," says McGregor as he takes off his glasses. "You know what it is in there, we both know."

Comments
comments