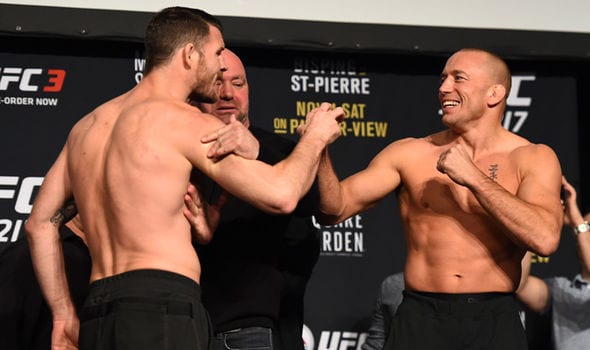 Michael Bisping says that a troublesome rib injury suffered just days out from his UFC 217 middleweight title match-up with Georges St-Pierre was a major reason why he wound up losing to the returning former welterweight champion inside Madison Square Garden 18 months ago.
Bisping, who was taking on his second defence of the 185-pound title against the Canadian legend who was fighting for the first time in four years, was defeated by third round rear-naked choke in what would the the penultimate fight in what would soon be recognised as a Hall of Fame worthy career.
But, as Bipsing told MMA Junkie, if it wasn't for a painful rib injury things could have been a lot different.
"Well, I know for a fact I could wipe the floor with Georges St-Pierre, so I'd like to do that one again," he said. "I tore my ribs a week before that fight; it's all in the book. I didn't break them. I tore the cartilage. I couldn't move very well."
The Brit says that he even managed to secret a strong painkiller into the arena (which isn't on USADA's banned list, by the way).
"I sneaked in a needle full of lidocaine, and I was going to, in the toilets, inject myself with lidocaine into the rib, which would numb the rib so I wouldn't have any pain. Because it's not a banned substance from USADA, I could have gone to the commission and said, 'Hey, I want to inject myself with lidocaine.'
"That wouldn't have been the issue. But the fact that I had an injury, they might have pulled me from the fight.
"But then my doctor said, 'You've got to be careful, because if you inject yourself with lidocaine in the rib and you get it slightly wrong, you could puncture your lung and die,'" he explained. "So I had it all in the bag, and I was going to FaceTime my doctor, on the toilet while the commission members were outside, and he was going to talk me through injecting myself with lidocaine.
"But when I got there I'm like, 'This is too much, bollocks to it.' So I just went out there and fought injured. Everyone was saying, 'You weren't moving too well.' And I'm like, 'Yeah, no sh-t!' My ribs were seriously messed up!"
Michael Bisping is currently promoting his new book, Quitters Never Win which is out now
Comments
comments