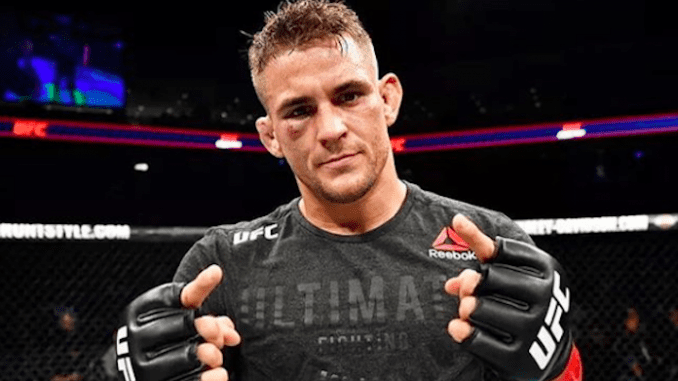 It has been an up and down road for Dustin Poirier en route to being considered one of the world's premier lightweight fighters.
The former featherweight contender carved out a slice of the UFC's 155-pound championship for himself when he outpointed Max Holloway in April of last year to claim the interim world title and set up a bout later than year with Khabib Nurmagomedov.
Poirier, of course, lost that fight but says that winning the belt — even though it wasn't undisputed — represented an achievement borne from several years' worth of hard work.
"I knew that I had a piece of the world title," Poirier said to Belal Muhammad's Remember the Show podcast, via MMA Fighting. "I'm not an idiot. I knew I was not the undisputed world champion but I was in a place of gratitude because of the years of work that I put in and put myself in the position to beat a current world champion at the time to win an interim belt. Max Holloway was a world champion and I earned that interim belt through years, 24, 25 fights with this company going back to the WEC days.
"I knew I wasn't the undisputed world champion but I had a piece and I was very proud of that."
View this post on Instagram
Poirier came in for criticism, most recently from Justin Gaethje, for his reaction upon winning the interim belt — but this is an accusation that Poirier doesn't agree with.
"For Gaethje to say that I thought I made it and I was holding a fake belt and him pushing that belt away in all those interviews, these last few months of him throwing that belt on the ground, I just want to tell everybody watching this — this is a life lesson," Poirier continued. "This isn't about fighting.
"You've got to understand and appreciate the position you put yourself in and be grateful for everything that you have because all these months of Gaethje walking around and throwing that belt down could have been months of him embracing the position, embracing the role that he put himself in. Not trying to be a meathead and throwing the belt on the ground and trying to say cool sh*t 'I want the real one!' Dude, we know. You have a piece of the real one right there on your shoulder that you're throwing around and you're disrespecting.
"I honor my work. That's why I carry that belt with pride," Poirier said. "I just want to put that out there. All those months of him being interim champion could have been great months if he wouldn't have been throwing that belt on the ground."
Comments
comments