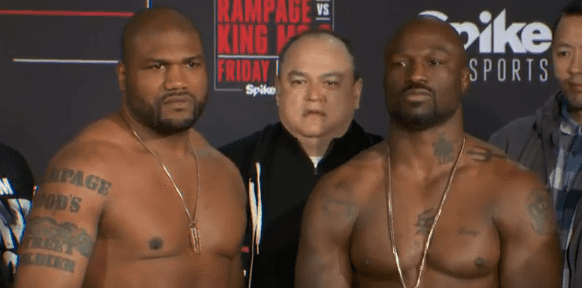 In the end, while King Muhammad Lawal walked away from Bellator 175 with a redemption victory over Quinton 'Rampage' Jackson, but really, not many felt like a winner.
While there was a moment in the second round where Jackson connected with a decent left, putting Lawal on wobbly legs, Lawal managed to dominate what was an incredibly clinch heavy affair, allowing him to walk away with a unanimous decision, after all judges scoring the contest 29-28 in his favour.
"[Quinton's] a legend," Lawal said post-fight. "He came, he fights. I had a game plan, he was right. The game plan goes out the window when you get hit and in the second round, I got hit. A few times. One time man, I was cross eyed, I was seeing four Quintons."
With the fight being Jackson's last on his Bellator contract, the company wasted no time in bringing a new ex-UFC light heavyweight into the mix.
Before Lawal could even catch his breath, new Bellator signing Ryan Bader was brought into the ring, and it was announced he and Lawal would face each other on the preliminary card to the upcoming Bellator pay-per-view in New York city at Madison Square Garden.
While that cements Lawal's next move, what happens next for Rampage Jackson is uncertain.
Technically, the former UFC light heavyweight champion is now under contract with his old promotion, after signing with them during a falling out with old Bellator bosses. But at 38-years old — and particularly in light of comments made earlier this week about regretting ever getting into the sport — Jackson may want to take some time and consider his next move carefully.
Comments
comments