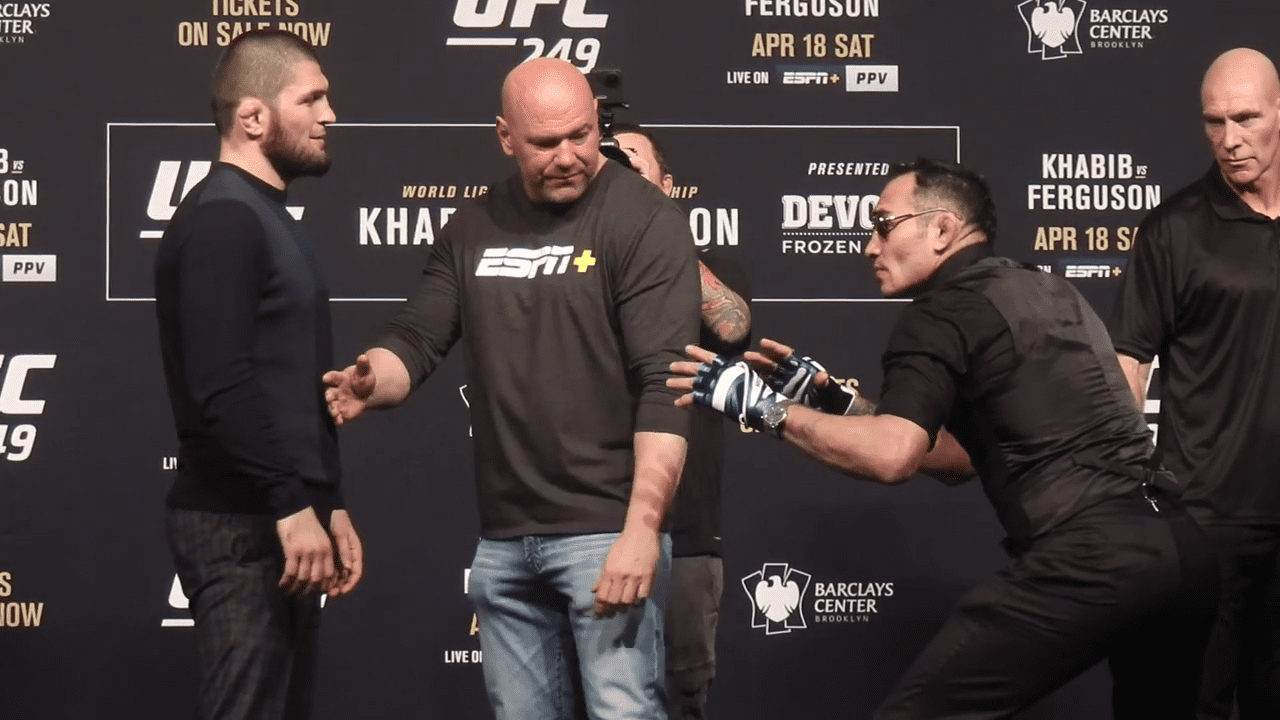 Khabib Nurmagomedov believes his fight with Tony Ferguson is too important to delay any longer, and could take place safely and securely despite the coronavirus outbreak.
Nurmagomedov is set to meet Ferguson on April 18 in a currently uncertain location, as the COVID-19 virus continues to wreak havoc across the country and forces the cancellation of large gatherings.
Recently, UFC president Dana White said that, despite the UFC having to postpone their next three cards, the fight between Nurmagomedov and Ferguson would continue "whatever it takes."
Nurmagomedov is on board with that idea.
"26 fighters and their corner, they healthy," Nurmagomedov said, speaking with his manager Ali Abdelaziz on Instagram Live. "UFC people who make show, journalists, athletic commission, everything, like we need maximum 100 people inside the arena. Close the arena, 100 healthy people come inside and make the show. Put camera on pay-per-view, and all of us can make money … people who have quarantine and sit home, they have fun. They watch fights.
"Fighters go to the arena and fight, they do their job. We just need like, maximum 100 people to make this fight. We need one arena and 100 healthy people around. Put a couple camera and show this around the world who the best lightweight of all time [is]. This is very important fight.
"That's why I like UFC's politics, like how they do. They always try to make fight best versus the best."
Nurmagomedov and Ferguson have been scheduled against each other on four occasions, with April 18 being the fifth. It's regarded as one of the most anticipated match-ups in UFC history.
Comments
comments