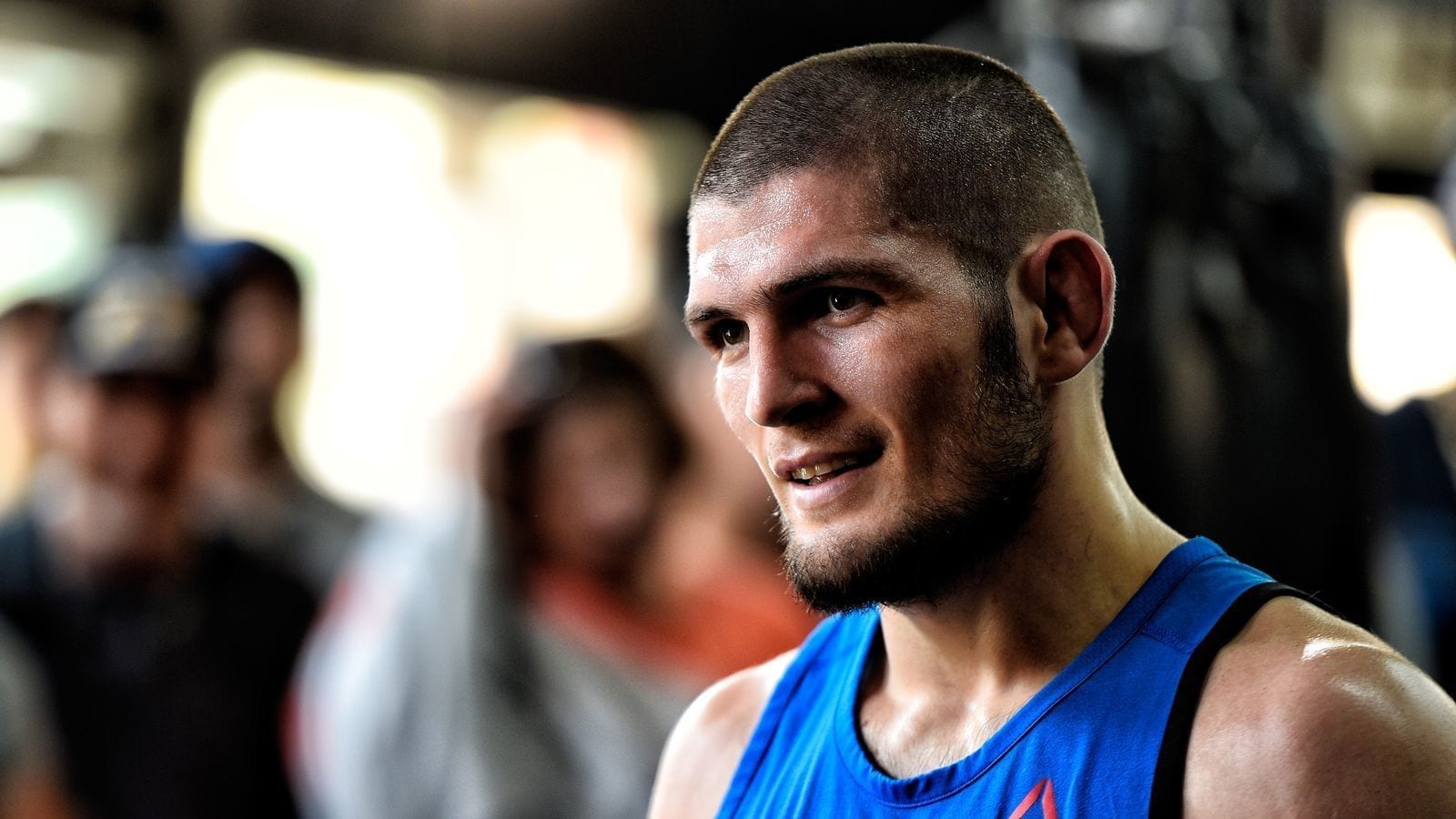 Well, there's a headline you probably didn't expect to read today.
Khabib Nurmagomedov, the top UFC lightweight contender and owner of one of the most impressive undefeated streaks in mixed martial arts, has said that he's considering moving to the featherweight division after facing Edson Barboza in the UFC 219 co-main event this weekend in the T-Mobile Arena in Las Vegas.
This might be surprising to many as Nurmagomedov has experienced several problems in making the 155-pound UFC lightweight weight limit in recent times.
"I feel great. My weight is very good," Nurmagomedov said in a pre-fight interview with the UFC's Megan Olivi which you can see below and as transcribed by Bloody Elbow. "To be honest, I am thinking about next fight maybe I am going to 145. We are thinking about this. I am focused on Barboza, but we'll see — maybe 145. We gonna see, with my team, we gonna see first how I feel Friday morning. We'll see. We're gonna make weight.
"Maybe I'm gonna take 155 belt and then fight for the belt — champion vs. champion, 145. I think I can make this weight — 145 — too."
Nurmagomedov was forced to withdraw from a March interim lightweight title bout with Tony Ferguson after experiencing extreme difficulty in cutting weight. Prior to that Nurmagomedov missed weight in his May 2013 bout with Abel Trujillo.
Nurmagomedov has not competed in the UFC since a November 2016 win against Michael Johnson at UFC 205 in New York City and a win this weekend at UFC 219 in Las Vegas will likely solidify a lightweight title shot down the line.
🦅 The UFC wants fighters no higher than 10% of their weight class on arrival. Two meals and a lot of water later, @TeamKhabib weighs in more than a pound UNDER. Sorry haters… 🦅 #nutritionist #lockhartandleith #khabibnurmagomedov #ufc219 pic.twitter.com/AksT9X7hhA

— Tyler Melee Minton (@TheMeleeWay) December 26, 2017
The Russian fighter has been working with a new nutritionist in Tyler Minton who has orchestrated a state of the art weight-cutting procedure for his charge. The stereotype from fighters of Eastern European origin, particularly those from a wrestling or grappling background, is more of an old-fashioned style of dropping weight using methods that have mostly been eradicated from western martial arts at the top level (though, obviously, not entirely).
As the body gets older, it becomes less responsive to blunt weight-cutting techniques, which potentially explains the medical issues experienced by Nurmagomedov as he attempted to register at fighting weight ahead of the nixed Ferguson bout last March.
"This time, everything is different," Nurmagomedov continues. "I changed a lot of things. Eat like champion, train like champion, sleep like champion — everything. And I think this is about maturing, everything about how you stay focused. I'm very excited about this fight, about this weigh-in — we'll see what happens. I don't want to talk too much about weight classes; Saturday we're gonna make a plan."
.
Comments
comments