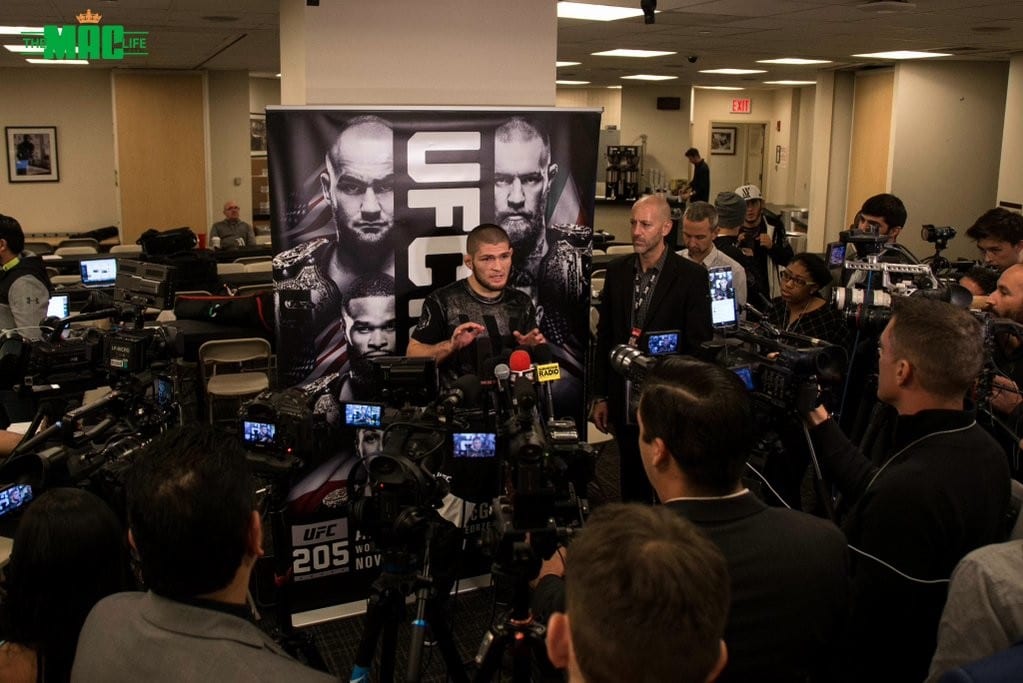 After two years on the sidelines, Khabib Nurmagomedov doesn't want to wait anymore.
With a dominant performance over Michael Johnson at UFC 205, Nurmagomedov's record went to 24-0, and as such his clamoring for a shot at the UFC lightweight title became nearly impossible to ignore.
However, at present the 155-pounds title picture is a slightly murky affair, with new champion Conor McGregor taking some time away from the sport as an impending fatherhood approaches. With the Irishman rumoured to return after May of next year, Khabib is willing to take a fight in the meantime in order to stay active.
Although he still wants gold on the line.
Speaking to Russian media this week, Nurmagomedov put out the idea of an interim title fight against fellow contender Tony Ferguson, who himself rides a 9 fight win streak.
"Now I just want to go underground and take a break for a month and a half," said Khabib, according to Bloody Elbow's Karim Zidan. "Not from training and from the media, just the media, I'm tired.
"And in terms of plans in the UFC, there are two: an interim title fight with Tony Ferguson, or fight for a real belt against Conor McGregor."
It's somewhat a change of pace for the Russian, who has repeatedly made claims that he would walk away from the UFC should he not receive a title shot in his next fight. A willingness to face Ferguson for an interim belt appears to be a sign he's willing to find a compromise.
"Of course, I would like [McGregor]," he said. "But am inclined to think that they want to set me up with Ferguson. Well, I'll take the fight."
While he's okay with a Ferguson fight in order to keep busy, Khabib made it clear that winning the interim title is only on his mind to serve a single purpose.
"This is the key to the door of the room in which Conor is sitting. And I really want to open this door now but there are too many guards."
Comments
comments