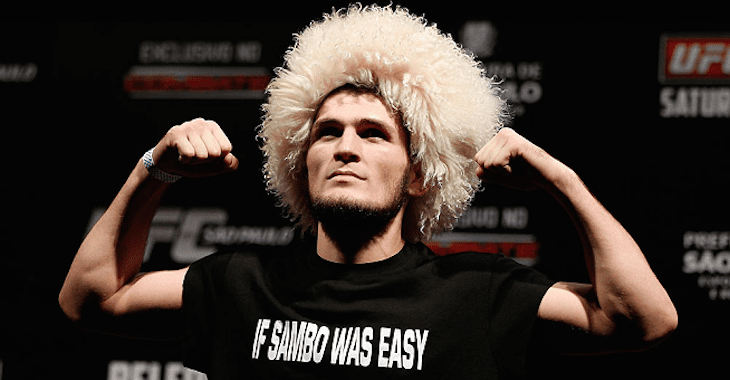 It's fair to say that UFC 209 was not the finest moment of Khabib Nurmagomedov's career.
The Russian star was forced to withdraw from his UFC interim lightweight title bout with Tony Ferguson on the day of the weigh-in's after being rushed to hospital in agony due to 'weight management' issues. As such, the contest was cancelled, and MMA fans lamented the loss of one of the most anticipated fights in lightweight history.
Naturally, Nurmagomedov took the brunt of the disappointment, with some fans pointing to a segment in a UFC Countdown episode of him eating tiramisu as evidence of his not being diligent in his weight preparation.
Today, however, Khabib spoke about the disastrous preparation, and inferred that it was something more serious than merely failing to take care with what he ate — while taking time to insist he would be returning.
"This is not about diet, this is about my health," Nurmagomedov said, speaking on MMAFighting's MMA Hour. "I am just coming from Germany. I need three or five months for make my body the same. Three or five months make me health. At the end of this week, I'm going to Germany and I'm going to fix my body. This problem, this is not about cutting weight, this is about my health. I have to make [myself] health. Three or five months, and I'm going to come back, and I think I can fight at the end of September."
When prompted by The MMA Hour host Ariel Helwani what exactly the health issue was, Khabib negated to go into too much detail although did give a passing mention that it was his stomach being examined.
The UFC 209 withdrawal was perhaps one of the most disappointing fight fall-through's in recent times, with Nurmagomedov versus Ferguson touted as a meeting of two of the best 155-pounders on the planet. The contest was heavily promoted, and was cited as the first big fight of a so-far quiet year for the UFC.
Knowing that, Khabib says that he did in fact make efforts to save the contest.
"My weight [was] 160," Khabib said. "[I said] I can fight, I can come to weigh-in and show my weight 160, and UFC can make fight a catchweight. Or you know when Pettis fight versus Holloway, they make if Pettis win; no title, if Holloway win; title. But doctor's said 'no way, you cannot fight because you feel so bad'.
"[The doctors] say 'no fight, one hundred percent, no make weight, no nothing. You need to stay hospital for seven hour, we have to make sure your body is good'. I feel I almost died."
Despite the insinuation that his failure to make weight was due to more serious health issues, Nurmagomedov makes no bones about the situation, and admitted that the entire affair was his own fault.
"I know a lot of people upset about this," he said. "A lot of fans upset about this because this is very big fight, UFC promote this fight very good, we fight promote this fight, a lot of people waiting for this fight. I know a lot of fans upset about this, and I understand this, I want to say sorry about everything, but I come back. I come back. I'm gonna come back.
"This is my fault, one hundred percent this was my fault. But we'll see what happen next time, I'm going to come back. This is not finished, this is not finished my career. I'm going to fix my body and come back."
Comments
comments