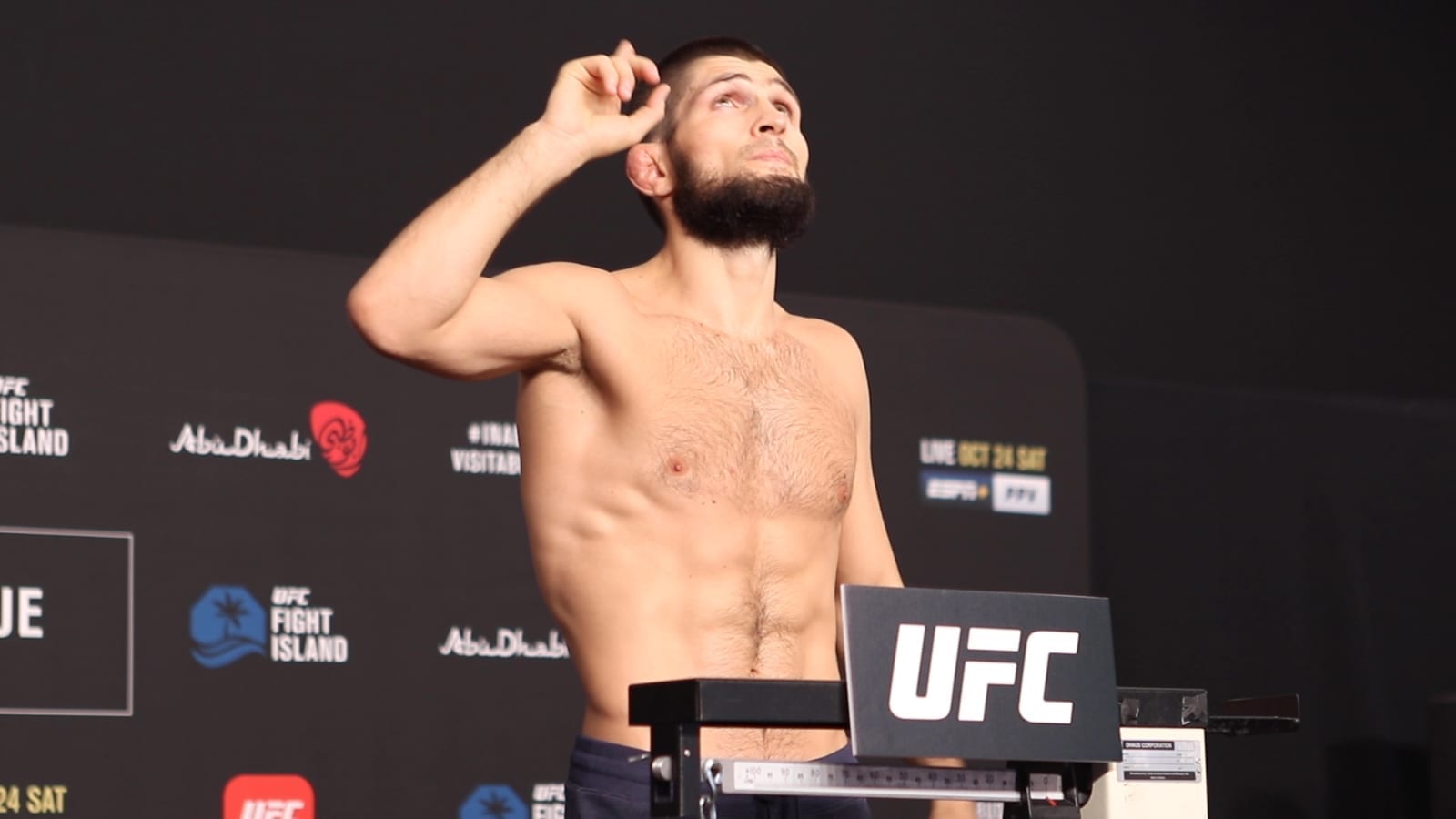 Khabib Nurmagomedov and Dana White's meeting went well… kind of?
The UFC lightweight champion has seemingly stood by his decision to retire, which he originally announced after defeating Justin Gaethje last year — with a provision. Should he be impressed by something spectacular from the lightweights at UFC 257, he could be tempted to continue competing.
So says Dana White, who met with Nurmagomedov last night in Abu Dhabi in an attempt to convince him to fight at least once more. While White wasn't able to get a yes from the Russian, he said Nurmagomedov laid out an avenue for him to return to the Octagon.
Per White, Nurmagomedov feels he's "accomplished all he set out to do" in his career, and does not wish to hold onto the title belt and hinder the 155-pound division for long. Instead, he will wait until next weekend and eye the co-main event between Michael Chandler and Dan Hooker, as well as the main event with Conor McGregor and Dustin Poirier.
"Next Saturday, we got the McGregor-Poirier fight, and Chandler and Hooker on there," White said. "So his words to me were, 'I'm gonna watch this fight, I would never tie the division. I would never tie up the division, hold the belt and keep the belt away from anybody else. These guys do something spectacular, show me something spectacular and make me want to come back and fight.
"So I have the feeling that if somebody delivers — it could be on the co-main event or the main event … If these guys can do something special, Khabib will fight them."
White has made no secret of his desire to book a rematch with Nurmagomedov and McGregor, a fight that would likely see a pay-per-view record in mixed martial arts.
"Show me something spectacular! Make me come back and fight!"@TeamKhabib's words to the lightweight division!

The Eagle opens the door to a return following #UFC257 🦅 pic.twitter.com/qatDzoR39H

— UFC on BT Sport (@btsportufc) January 16, 2021
–
Comments
comments