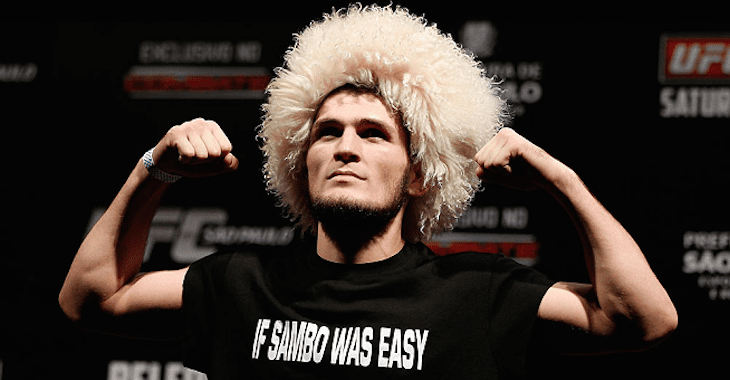 Khabib Nurmagomedov is in something of a weird position right now.
Undeniably one of the world's best lightweights when fit, the Russian owns a 24-0 record in mixed martial arts, with victories over names like Rafael Dos Anjos, Michael Johnson and Gleison Tibau.
But while he might be one of the most formidable grapplers in the world, Nurmagomedov's career has been repeatedly and consistently hindered by various injuries. Indeed, since the end of 2013, he's only appeared in the Octagon on three occasions.
And earlier this year, he suffered the most devastating sideline of all.
Scheduled to face Tony Ferguson at UFC 209 for the UFC interim lightweight title, Nurmagomedov infamously didn't make the scales for the weigh-ins, instead being hospitalised by a weight cut gone wrong. It was a brutal loss for fans, after being hyped up as (on paper) being one of the best 155-pound contests in history.
Now though, Nurmamedov believes he is healthy and ready to return to fighting — hopefully with the issues behind him. Aiming for UFC 219 on December 30, Khabib appeared on MMAFighting's MMA Hour to announce his choice of opponent, revealing he wants nothing more than to settle the score with old rival Ferguson.
"When I see what Kevin Lee did to Tony Ferguson in one round," Nurmagomedov said. "I think I'm confident like a hundred percent I can finish this guy in second or third round."
"I think [Ferguson] win because Kevin Lee fighting with him like chicken. He talk too much, he is not focused on the fight. He is focused on [promoting] this fight. When fight beginning, Lee beat him. In second round he stay with him, his distance he did a lot of jabs, and in third round he give up. Because he don't have condition, this is why.
"[Rafael] Dos Anjos and Kevin Lee fight with [Ferguson] on his distance," Nurmagomedov analysed. "That's why this guy win. What happens if Ferguson fight with fighter like me, who all the time try to take him down, and smash him on the ground, and never stop?
Of course, there's an apparent issue with Nurmamedov's request.
At UFC 216, Ferguson defeated Lee for an interim title, which would seemingly put him in line to face Conor McGregor to unify the belts. According to Nurmamedov, however, the UFC should consider putting McGregor in a third fight with Nate Diaz while Nurmamedov himself fights Ferguson. According to the Russian, it would maximise the profit for the UFC, while allowing him his dream fight.
If the UFC choose to ignore Nurmamedov's idea, and instead book Ferguson and McGregor, he would fancy a contest with Edson Barboza — a man regularly chosen by fans as the perfect opponent for Khabib to face upon his return.
"I think Barboza is very good fighter, very good striker," Nurmagomedov said. "I think he is one of the best lightweight in the world. He is number three, I am number two — but Michael Johnson beat him. Tony Ferguson beat him. For me, most important fight is fighting with Tony Ferguson.
"But if UFC make fight Conor vs. Tony, then of course I'll take this fight. But if UFC make Conor vs. Diaz 3; I have to fight with tony. But Edson Barboza, Eddie Alvarez, Justin Gaethje — these guys are best in the world and of course I want to fight with one of these guys. But for now, I'm focused on Tony Ferguson.
"If UFC make Tony vs. Conor, I'm going to fight with Edson Barboza for sure."
But while Nurmagomedov might be gaining excitement for his return, he's aware of an underlying issue with his comeback. After repeated issues and injuries, certain portions of the MMA fanbase have become jaded with the lightweight contender, often decrying his withdrawal rate as a reason not to be excited by his scheduled bouts.
For what it's worth, Nurmagomedov hears their concerns.
"I understand a lot of fans, they [critique] me like 'hey you have to fight', but I agree with this," Nurmagomedov said. "It's why I try to come back, it's why I go into hospital and [have] surgery. People think I love surgery? I don't think somebody love surgery. I make surgery, I make rehabilitation for three, four months, training every day. Every day training two times. This is not easy. I agree with fans; I have to fight. I have to make weight, I have to stay professional sometimes. I agree with this.
"But when I fight, I all the time smash my opponents. All the time, when I fight. Now I have one goal, fight end of the year in one dream fight. This is fight against Tony Ferguson. This is what I want."
Comments
comments