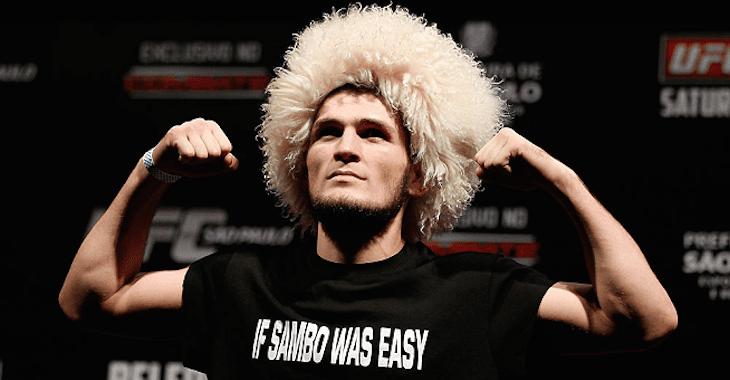 Khabib Nurmagomedov has made no secret that he considers his father's influence to be a huge factor in his success. That's why whenever Abdulmanap Nurmagomedov speaks on what's next for his son, it's wise for mixed martial arts fans to listen.
Currently, the top of the UFC lightweight division is slightly muddled. While it is expected that the champion Conor McGregor will return to action against interim belt holder Tony Ferguson later this year, some have pointed to Khabib Nurmagomedov's performance over Edson Barboza as a sign he should jump the queue.
Because of that, it seems as if Khabib could be in line to fight either Ferguson or McGregor at any moment, particularly when the Russian is posting allusions to a big announcement on his social media.
That being said, Abdulmanap Nurmagomedov believes there are other options on the table.
"I think that Conor, Diaz, and Ferguson, instead of fighting with Khabib, will be better off against each other 30 times,' Nurmagomedov said (translated via Google). "These swings will be as long as Khabib is not injured, will not go into another weight or something else.
"… If Conor and Ferguson fight among themselves, give us Alvarez. He said that he was preparing Barbosa for Khabib. Well, let's see, let him go himself now."
Alvarez too, is coming into the new year on the back of a great victory. He defeated Justin Gaethje in TheMacLife fight of the year (as voted for by our readers), in a brutal three round war. Because of that, it might be a little while longer for him to return to the cage.
Should Alvarez elect to remain out of competition for a while, then that could scupper the chances of a contest with Khabib. Nurmagomedov has made it clear he intends to honour the month of fasting that Ramadan brings, which means that for a period over the Summer, he'll be unable to fight.
But if there is no Alvarez, then perhaps the Nurmagomedovs will look elsewhere for challenges. While Khabib's father doesn't find a drop down to 145-pounds interesting ("If people in the [155-pound] category from under Khabib can not get out, do you think that someone [at 145-pound] can do it?"), a contest with welterweight champion Tyron Woodley does raise some questions he'd be interested in solving.
"Woodley [is] a good fight," Nurmagomedov said. "With him, you have to fight five rounds – and win, starting with the third. I think that Woodley's first round, even in the [185-pound] category, will not lose to anyone. But in the later rounds he is not the same."
Comments
comments