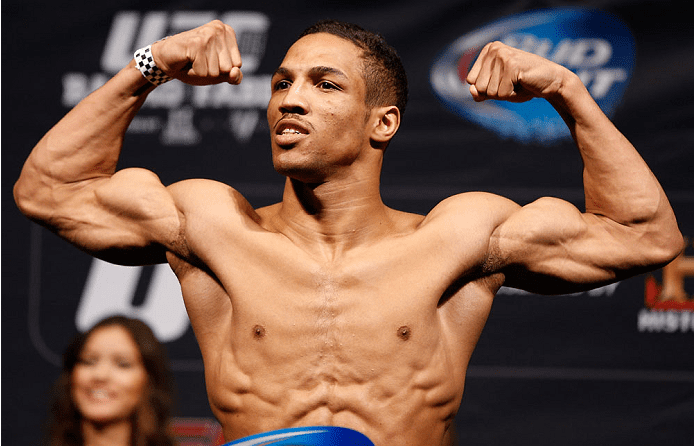 Last Saturday at UFC 216, Kevin Lee came up short in a main event slot against Tony Ferguson. Ferguson locked in a triangle choke on a clearly fatigued Lee in the third round to get the submission win.
For Lee, at just 25-years old, it's an unfortunate setback, but by no means one he cannot recover from. Particularly, as he feels, he's learned plenty from the experience, and from getting to a stage higher than he had before.
Speaking on Chael Sonnen's podcast "You're Welcome," Lee revealed he felt the defeat (and the fatigue that helped it arrive) could be attributed to the stress of being in such a high profile contest, which he felt creep in over the course of fight week.
"I knew I had to make the best of it," Lee said. "It just was a weird situation. It's hard to really explain it, but I just knew that the stress was a little bit too much."
But despite understandably feeling disappointed, after a few days of reflection Lee can already see some positives from the experience.
"I was upset about it for the past couple of days," Lee said. "But really when I step back and I thought about it, I really got to thank Tony on this one, because he taught me a lot in there. Even just his approach to it, I think he really kind of won the mental side of it too. Because we were in there and we were talking the whole time — he'd hit me with a shot and say something; I'd hit him back and say something else … but he did a better job of managing that, and being able to control his emotion in it too.
"It's kind of a hard way to learn a lesson but at least for me, I don't know, just going forward I think I definitely learned a big lesson from somebody that does have that experience, that is older, and already has been in those big fights. … I live, and I learn."
In fact, Lee felt he learned so much from his opponent, that he actually plans on utilising some of the tools that beat him.
"Look I'm [going to] steal a lot of it from his game, and then I'm going to come back and whoop somebody else with it. One thing I'm going to do is try and improve every fight regardless."
Comments
comments