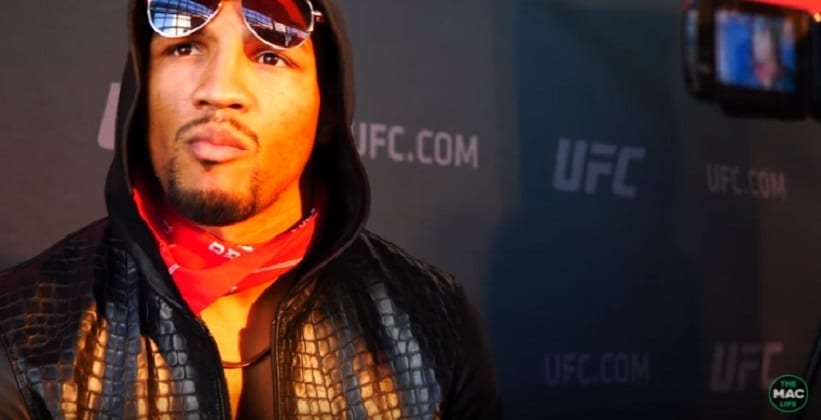 When Nate Diaz recently announced he was interested in a return to fighting, there were more than a few names thrown out as potential opponents.
With the UFC lightweight division being one of the most talent rich in the sport, any of the ranked top five names could create fan excitement when paired with the younger Diaz. While there remains some mystery as to whom Diaz wants to step back in there against, one man who seems to be firmly near the top of the list is former lightweight champion Eddie Alvarez. But while that contest appears to be gaining traction, there's another 155-pounder named Kevin Lee on the roster who would argue it should be him, not Alvarez, that meets Diaz later this year.
"I see what Eddie's trying to do, but I think the man's just got it all wrong," Lee said, speaking on MMAFighting's The MMA Hour. "I think the fans, they don't want to see who's the biggest name, they want to see whose the best. So if we going at it from a sporting perspective, I got to throw my hat in the ring versus Diaz. I think that's the fight to make. That's the fight I've been pushing for, that I'ma talk my talk and keep going.
"I think from every other perspective other than 'a fun fight', [me vs. Diaz is] the fight to make."
For Lee, it's simply a matter of sporting sense. In his eyes, both he and Diaz are coming off of losses at the very top end of the division. While Alvarez might be on a great run, particularly with a fight of the year contest against Justin Gaethje in the books, Lee believes the 'underground king' is still not on the tier that he and Diaz are on.
"We'll just call it what it is," Lee said. "Diaz is coming off the loss to [Conor] McGregor, who's the champ. I'm coming off the loss to Tony, I mean it just makes more sense from a sporting perspective to see — am I going to bounce back? … I got tired versus Tony. Nate Diaz is known for not getting tired. That's going to answer a lot of those questions. The tiredness, the mental warfare, it's going to answer all those questions.
"You got Alvarez in there," Lee continued. "Come on, the man's washed up. We all know that. The UFC brass, they know it. Alvarez is never going to be the champ again. He's not even going to sniff that title again. If they want to make me and Alvarez happen, like, I'm cool with that too. I'm just looking at it from a fan perspective, and seeing what I wanna see. I wanna see the two guys that just challenged for the title, because I'm going to be back in the title shot before the next year.
"The UFC knows that, the fans know that, and I think that makes more sense."
If anything, Lee believes the lightweight title picture lacks clarity at the moment. With McGregor negotiating a return to action, Khabib Nurmagomedov will face Tony Ferguson in a fight for the kind-of-but-sort-of-not undisputed title in April. If you add Alvarez vs. Diaz to that, Lee says, you continue to pile up on the confusion.
"Fuck all this picking the fights, and you wanna see the big name versus big name, let's try and clear up this division a little bit," Lee said. "I think the division is already muddled enough, if you try and mess it up even more and not looking at the longevity, then [Alvarez vs. Diaz] would be the fight, but if you're looking at the longevity of the sport, and me speaking as a fan of the sport, then I'm looking at a more clear title picture."
–
Comments
comments