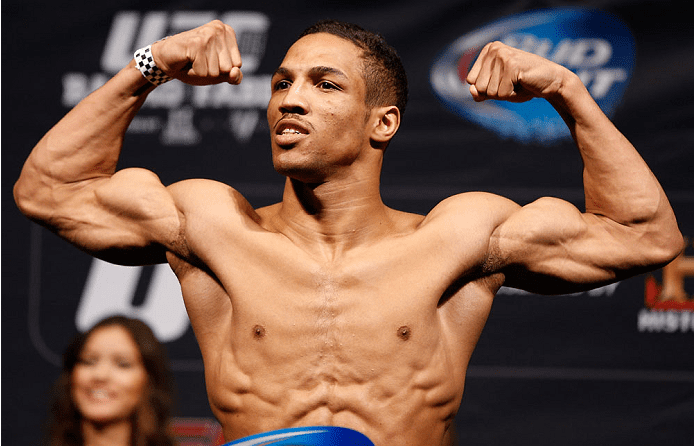 Surging UFC lightweight contender Kevin Lee intends on making a statement in his main event bout with Michael Chiesa at UFC Fight Night 112 in Oklahoma this weekend.
A win for either will propel the victor north in the 155-pound rankings in the general direction of champion Conor McGregor but with the Irishman tied up for the foreseeable future in his history-making crossover bout with Floyd Mayweather in two months' time, Lee has his sights set on a bout with Khabib Nurmagomedov as the next step in his quest to become one of the elite in the UFC's lightweight fold.
Lee has been in impressive form inside the octagon lately, winning four straight since his last defeat to Leonardo Santos in December 2015. A dominant collegiate wrestler by trade, the Michigan native has married an impressive striking game into his arsenal in recent times and intends to show off his full bag of tricks when he steps in the cage with Chiesa on Sunday.
Interest in the bout has piqued since Chiesa and Lee came to blows at a recent press engagement but, as Lee said in a recent episode of The Fight Society podcast (as reported by Fox Sports), the incident has only served to underline what 'The Motown Phenom' already thought of his upcoming opponent.
"He's stupid. The main ain't too smart", Lee said. "I think he even realized that afterwards, he was in my face and trying to dial it back but the man is stupid. He's just not that smart."
While Lee also states that any one of the ranked fighters in the lightweight frame pose interesting challenges to him, he also says that as good a fighter as Chiesa has proved himself to be there isn't an area where he sees his opponent as having an advantage.
"When they approached me with this fight, it's a perfect fight for me. I out shine the guy in every category," Lee added. "I mean he's very tough and he keeps on chugging. He's got good cardio, he's good on the back but I'm great on the back. Everywhere he's good, I'm better at. Everywhere he's bad, I'm way better than him.
"I'm more athletic, much quicker, much stronger, I'm going to show that man he don't belong in there with me. After the first 10 minutes, he's going to realize, he's going to go into a defensive shell because he don't want to get beat up in front of his people."
While it is often said to only concentrate on the fight in front of you, Lee says that he already has a plan for when he has his hand raised this weekend and it involves the undefeated Russian fighter Khabib Nurmagomedov.
"I think after this fight, we fight Khabib [Nurmagomedov], we headline Detroit in the card there [in December] and that's a No. 1 contender's match," Lee continued.
"I gave [Khabib] that date in March. If he can't show up with a nine-month notice, then I don't know what to say. They tried to make it in July and it would have been a great fight in July but he just did not want to fight. I'm going to be there. I'm going to show up in Detroit. I'm going to whoop whoever they put across from me. It's insane he can't put ink to the paper for something that's nine, ten months away."
First things first, though, and Lee intends to set up the next phase of his mixed martial arts career on Sunday in what is undoubtedly the highest profile bout of his career. After that, the rest of the division is on notice.
"The top of the division is praying for me to lose just because they know I'm coming."
Comments
comments