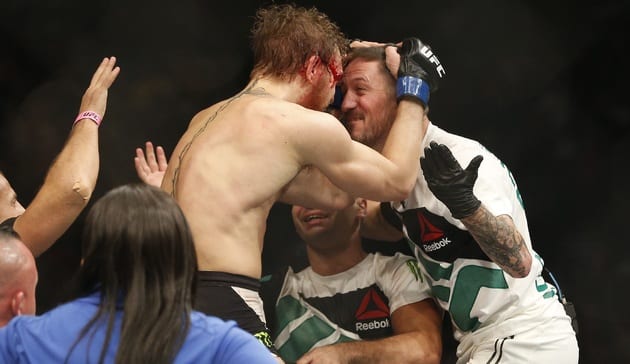 Some have suggested that just by having the fight booked with Floyd Mayweather, Conor McGregor has won. Ask anyone from SBG, if that's the case however, and you'll find that nothing else than McGregor's being raised on August 26 will be considered victory.
According to McGregor's longtime coach John Kavanagh, who wrote his thoughts on the fight for The42.ie, the idea that McGregor or his team are somehow looking at this in any other way than as a deadly serious contest is misplaced. Instead, the team at SBG believe McGregor has a realistic shot at winning, and also feel he has more advantages than most pundits are willing to grant.
"I believe we have a number of advantages going into this fight," Kavanagh wrote. "Often, people who are experts in a certain field will tell you that it can actually be more awkward to deal with somebody who's not from the same field. They'd rather deal with the top contender from their own discipline because he'll move in a way that you assume he'll move.
"Mayweather has been in the boxing world for his entire career and everyone he's faced has moved in a certain way that he's pre-conditioned to handle. Now he's going up against a guy who doesn't follow any set patterns, who can deploy a variety of different styles of fighting and is not one bit intimidated. Conor is — as we all are here — 100% confident in victory. That kind of person is very difficult to deal with."
And as for those who feel McGregor has no chance at winning, Kavanagh feels it's just the same old story to any seemingly insurmountable odds the Irishman faces.
"The fact that he has constantly been written off is never going to change. Conor could beat Mayweather and people will say: 'Yeah, but he hasn't fought Manny Pacquaio yet,'" Kavanagh said. "There's a running theme with his career where firstly an idea will seem ridiculous, secondly it's eventually accepted, and then finally people will come up with a new challenge which apparently he'll never be able to overcome. We're used to it now and that's fine with us.
"We're not going over to Las Vegas to make up the numbers on 26 August. When this contest takes place, we'll be 100% ready — physically and mentally — and nothing other than victory will be acceptable. We're looking forward to shocking the world — again."
Comments
comments