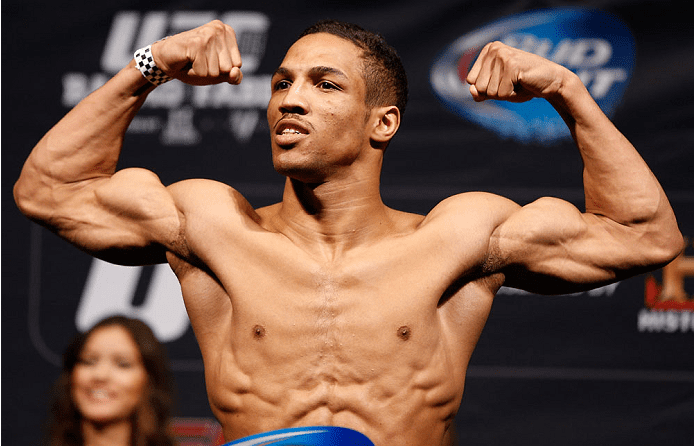 It might not have happened yet, but the conversation about introducing new divisions to the UFC (and mixed martial arts as a whole) is well underway.
Most prominently mentioned in that discussion is the idea of removing the 170-pound weight-class, and instead bringing in two new divisions in the form of 165-pounds and 175-pounds.
The thinking behind such a move is, essentially, that most other divisions have a ten pound gap while 155-pounds to 170-pounds seems to force a large group of fighters to either fight against bigger men, or to force their bodies to lose an unnatural amount of weight.
For Kevin Lee, it's that second part that has him concerned. In his most recent bout, Lee hit the scales at 157-pounds — one pound over the lightweight allowance.
"This is my division, this is the best division in the UFC, and it's where the biggest fights are. And I can still make the weight," Lee said, speaking to BloodyElbow.com. "This was just a mistiming thing; I don't put it on nobody else. I'm not the type of dude that makes excuses. But real fighters really understand what I'm saying when I say it was a timing issue.
"Paul Felder, a couple minutes before I stepped on the scale, he stepped on the scale and he's 190. Edson is just as big as me. Khabib [Nurmagomedov] has documented kidney failure and is still trying to make 155 from 190.
"They're waiting on me to die. I'm pushing for it because that's what needs to be done."
While he still maintains lightweight is a division he's well suited for, Lee points to fights like Colby Covington vs. Rafael Dos Anjos for the interim welterweight championship as proof the UFC are willing to create belts without a need, and so could easily do the same for new divisions.
"They can go ahead and after this interim title fight, scrap [the division], and make a 175-pound division. The (interim) champ vs. Tyron Woodley at 175," Lee said. "And then they go ahead and make a 165 division. There's already three, four titles floating around that area, anyway. Why not just add an extra weight class and crown someone else the champion?
"They're making another title in the same weight division, so instead of just having three random titles, why not just have three weight classes with three rightful champions?"
Comments
comments