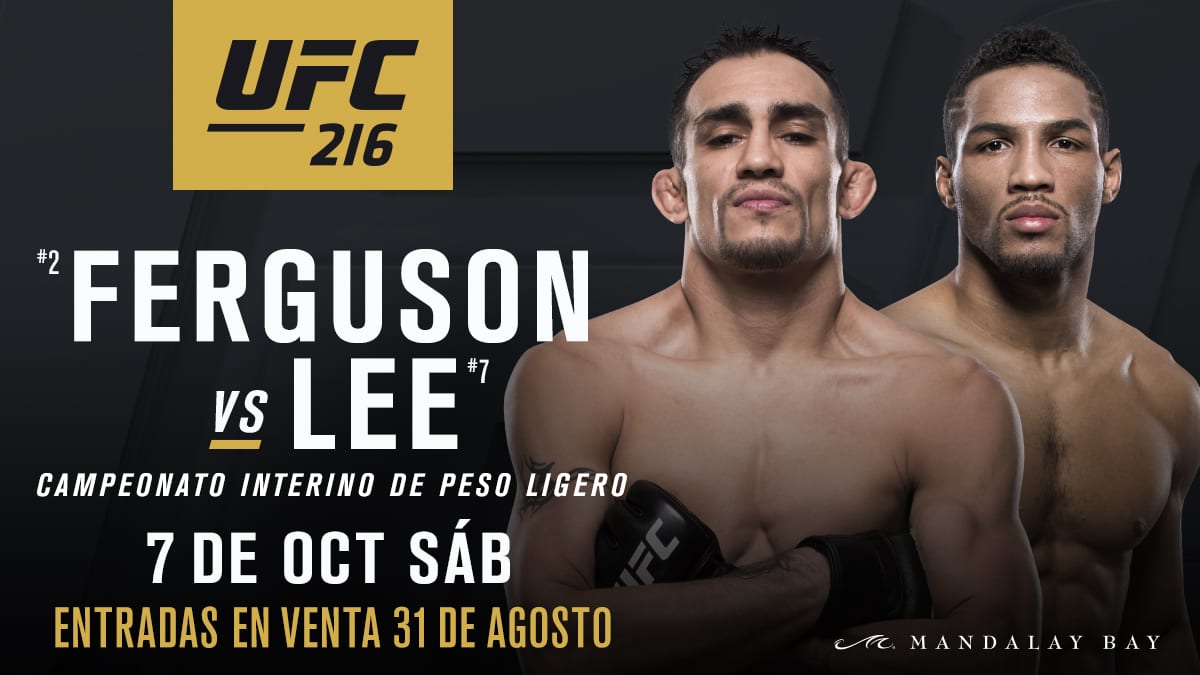 When you put two personalities like Tony Ferguson and Kevin Lee together on a conference call, it doesn't take long for things to degenerate into a shouting match.
And, sure enough on the UFC 216 media conference call, the duo took about two answers before they got into a heated exchange.
"I'm going to beat Tony's bells and whistles," Lee said. "That's what it's about. Tony, the man's already over the hill. He's 33, and he's talking about what he's going to do in the next 12 months, it's going to be whatever. After this fight, they'll all really know my name.
"People are shocked. People are confused as to why I'm doing this. I said it months ago, and I'll say it again, I feel like I'm the king of all these bitches, so. I'm just 25, I'm just getting started, I keep getting better, he keeps getting worse."
At that point, Ferguson began to interrupt, telling Lee to "keep talking kid, keep talking," before offering a tirade of his own.
"The only thing you're going to walk out [of the cage] on is a fucking gurney, Kevin Lee. You're locked, you fucked yourself, brother. That's what you did, you messed up by talking shit. You wanted to bring family into it, so you know what, I'm not a punk-ass jester; you're dealing with the real motherfucking Mexican now."
"Let's be real here," Lee responded. "You fought a bunch of bitches. [Rafael Dos Anjos] was whipping your ass, and he bitched out in the second round. … Edson Barbosa was whipping your ass, he bitched out. Like you fought a bunch of bitches that you walked down, and I'm telling your right now, it ain't going to happen.
"You fought RDA who was already coming of a knockout, you seen he was off the juice –"
"Speaking of juice," Ferguson interjected, "Are you off the juice? Those growth hormone fucking bumps."
After that, the duo went back and forth several time, with almost every time a question was posed to either man, both began insulting the other, calling into question their opponents trash talking, skill set and age. One particular moment that appeared to rankle Lee was the suggestion he had talked his way into the opportunity against Ferguson.
"Motown fake is the fakest dude I know," Ferguson said. "He talked his way into a title fight, and he's not going to be able to talk his way out of that fucking cage. Once that fucking cage locks, that's it."
"Okay," Lee answered. "Talked my way into it, but I got 11 UFC fights at 25, so where does the talk come into that? Where does talk come in? Where's the talk? I'm just saying."
"I'm going to knock you straight down with my jab," Ferguson shot back. "You're going to get knocked out, porcelain chin. I'm going to test that chin again. Wait til you shoot on me, I'm gonna put your ass to snapdown city, and choke your ass out."
"You've been knocked down more than me!" Lee said, almost incredulously. "What is you talking about? Like, do you watch your own fights? Like what are you talking about?"
While the bickering went on for a while longer, in the end, both men agreed on one aspect. The talking only resolves so much, and that they would both finish their statements inside the cage next Saturday night.
UFC 216 takes place October 7 at the T-Mobile Arena in Las Vegas, Nevada.
Comments
comments