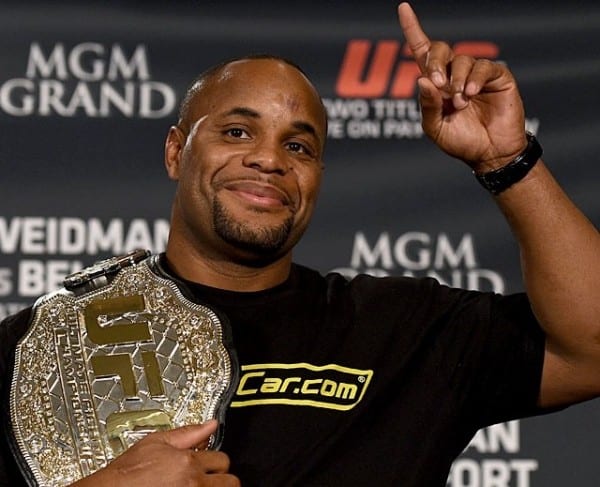 Daniel Cormier believes that Volkan Oezdemir is the next number one contender to his UFC light heavyweight title.
Some had wondered if there was a true candidate for a title shot, particularly after Jon Jones' latest scandal had left the 205-pound division once again in turmoil. For Cormier, who had been handed his old belt back, a decent way to gauge the temperature of who should be next was a simple online poll, asking fans who they'd like to see him face.
You decide…..
Gus – 2 in a row (Blachowitz, Texeira)
Volkan – 3 in row (OSP, Circunov, Manuwa) who should I fight next? @ufc

— Daniel Cormier (@dc_mma) September 22, 2017
Offering choices out of Alexander Gustafsson and Volkan Oezdemir, Cormier put it out there for the fans to decide. The champion seemingly had no issue with either man, stating "I believe Gus will always be a tough fight, but I am ok with that. Volkan is tough too. He's looked amazing."
In the end, it appears the new hot prospect Oezdemir won out, with Cormier taking to his social media and Tweeting the Swiss star that he was up next.
@volkan_oezdemir I asked and people wanna see u and I scrap. So you got it man! Let me figure a date now. They chose u bud! Congrats

— Daniel Cormier (@dc_mma) September 28, 2017
Naturally, Oezdemir accepted.
@dc_mma you are a real champ! I'm glad they chose me. Fans are always right ! #fromnowheretothebelt #history #notime #blessed&honored pic.twitter.com/eo7UNw1eMJ

— Volkan Oezdemir (@volkan_oezdemir) September 28, 2017
Currently, Cormier has mentioned he intends to take six months away from the cage, after a devastating knockout loss to Jones last year. It appears a come back in the early stages of 2018 is most likely.
Comments
comments