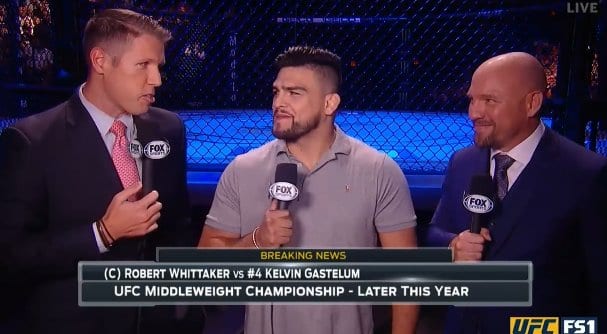 It's a return to origins for middleweight champion Robert Whittaker and Kelvin Gastelum, as the two men have been booked to coach the show through which they made their UFC starts.
The pair will head the next, and potentially final season of the long running show. The announcement was made during the TUF 27 Finale on Friday. Following their stint as coaches, the pair will meet for Whittaker's middleweight title later this year.
.@KelvinGastelum has some news about TUF season 28 👀 pic.twitter.com/fjl3wng3bH

— The Ultimate Fighter (@UltimateFighter) July 7, 2018
It marks the first shot at UFC gold for Gastelum, who at just 26-years old has climbed the rankings quickly after a cemented move from welterweight to middleweight in 2016. He comes into the fight on back to back wins over Michael Bisping and Ronaldo 'Jacare' Souza. It puts an end to speculation of whether it would be Gastelum or Chris Weidman who'd emerge as the next title contender.
For Whittaker, it will mark his return to the Octagon after a stunning title defence against Yoel Romero last month.
Season 28 of The Ultimate Fighter begins filming in Las Vegas next week. According to ESPN's Ariel Helwani, the current aim is for Whittaker and Gastelum to fight in December, but could be affected by Whittaker's hand, which was injured in his bout with Romero.
Comments
comments