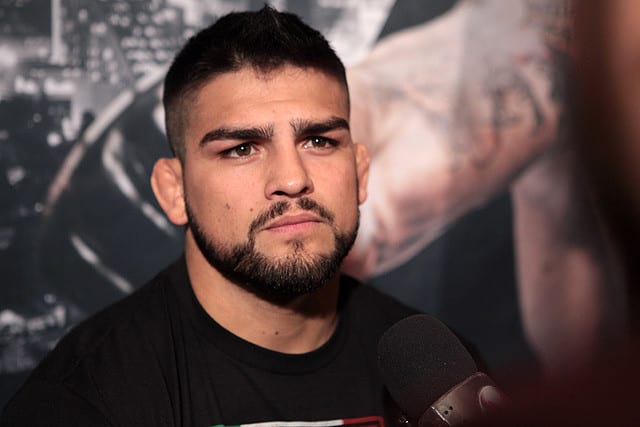 Playing mind games with fighters isn't always as easy as it seems. Or at least, that's the lesson Kelvin Gastelum learned when he tried to mess with fellow UFC athlete Mike Perry online recently.
Gastelum tried to play a subtle game with the louder mouthed Perry, responding to comments made by the welterweight by simply sending a friend request on Facebook as a quiet way of letting Perry know Gastelum had seen what he'd said.
"So one day I wake up, I check my Facebook," Gastelum said on UFC Tonight. "I saw Mike Perry commented, I'm like, 'Okay, I'm gonna see what he put, what he commented.' Random right? I don't have him as a friend or whatever, and I checked the notification and it said, 'Jacare [Souza] will strangle you'. I didn't respond, I didn't like the comment, I just said, 'Okay, I'm gonna send him a friend request to see what happens. Kinda mess with him — but it totally backfired.
"He blasted me on Twitter, and made me look like a fool."
I told y'all I didn't come here to make friends. @JacareMMA gonna strangle you anyways @KelvinGastelum pic.twitter.com/MCwiuTOPzA

— Platinum Mike Perry (@PlatinumPerry) April 22, 2018
During a media obligation on Wednesday, Gastelum expanded on those thoughts, revealing that he no longer takes any notice of negativity on the internet.
"I've learned that people will say anything online," Gastelum said (H/T MMAFighting). "Anything to get your attention, to get you to respond to them. And many of those people are the saddest people on earth. I don't pay any attention to it. Only sometimes when I want to have some fun. … I used to read the comments and think 'oh my god, what are people thinking about me, what are they saying about me?' But now it's just like, I realize some of those people are the most saddest people on earth."
Comments
comments