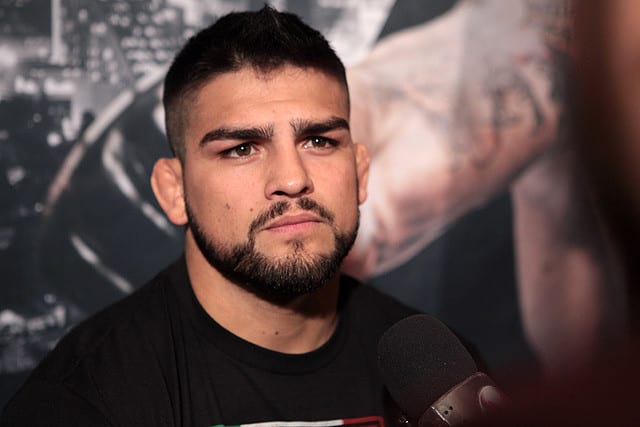 Speaking on the first episode of the all-new The MMA Hour on MMAFighting.com, now hosted by Luke Thomas following Ariel Helwani's departure to ESPN, UFC middleweight contender Kelvin Gastelum says that he was 'dumbfounded' by UFC president Dana White's comments that 'personal issues' meant he was unable to replace Yoel Romero against Robert Whittaker earlier this month after the Cuban missed weig
"He should have been the backup here tonight when (Romero missing weight) all went down. He couldn't do it," White said as noted by MMA Weekly. "He's got some personal issues that he seriously needs to take care of. Some s—t that he needs to get together and handle quick."
Clarifying the issue with Luke Thomas on Monday, Gastelum said: "I was dumbfounded. Because I don't know where those comments are coming from. I just figured he was upset over me not taking the fight a day-and-a-half before."
As Gastelum explained it, he was asked to serve as a stand-in for either main event fighter in the event of one being unable to compete but when his monetary demands weren't met, he instead opted to holiday in Mexico rather than cut the necessary fight for a short-notice bout. He says that the UFC contacted him the Wednesday before the fight when they became concerned that Romero may miss weight, but Gastelum was weighing 200-pounds at the time and considered dropping the necessary 15-pounds too dangerous.
"I looked down at my belly and I'm like, 'No, I don't think I can do this in a day and a half,'" Gastelum said. "In a day and a half's notice while I've been out drinking and eating, I probably would have been in the hospital if I would have tried that.
"I would love to sit down and see what those comments are about. I just haven't reached out to him about it," Gastelum said. "Eventually, I want to sit down with him and talk to him and meet with him and see what the future holds."
Gastelum is one of the top contenders to Robert Whittaker's middleweight title and has wracked up successive wins against Michael Bisping and Ronaldo Souza.
Comments
comments