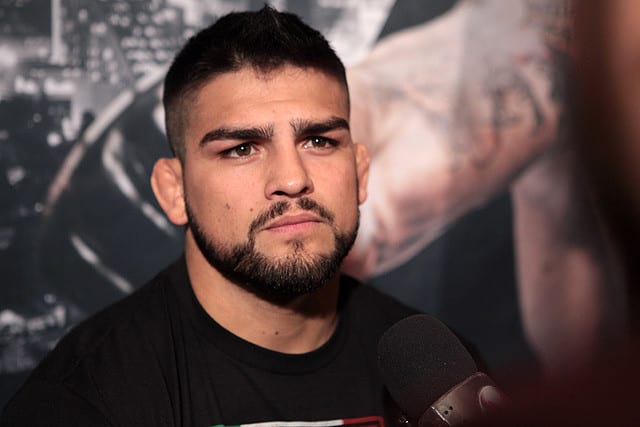 If you don't ask you don't get, as the saying goes. This was something that Kelvin Gastelum has found out after his second win in his new home among the UFC's middleweight fold.
Following his first round victory over Vitor Belfort earlier this month, Gastelum set his sights on another Brazilian legend by calling out Anderson Silva and, even to Gastleum's surprise, his request was granted and the two will meet at UFC 212 later this year.
"I thought there was going to be a problem", Gastelum said to Ariel Helwani on a recent edition of The MMA Hour (as reported by MMAWeekly) of the contract deliberations. "I didn't think he was going to sign it. The next thing I know is he's posting this video of him signing it."
The clash with Silva will be the biggest profile bout of Gastelum's career to date and he says that while he has genuine respect for his opponent, all of that will melt away as soon as the cage door is slammed shut in Rio de Janeiro on June 3rd.
"All respect to him. I didn't think he was actually going to go on and take the fight. I'm just very thankful for the opportunity to be able to fight him. He's the greatest of all time and deserves all the respect in the world. But once that cage door closes, I expect the same results that I had with Vitor."
Gastelum's win over Belfort in his native Brazil was a high-water mark on Gastelum's recent fight resumé but, as he says, that pales in comparison to the opportunity of facing one of the sport's greatest names.
"It's kind of a big deal. I thought the Vitor Belfort fight was big. This is a whole another level. I'm fighting the greatest of all time. It's like fighting Mike Tyson. It's insane."
Comments
comments