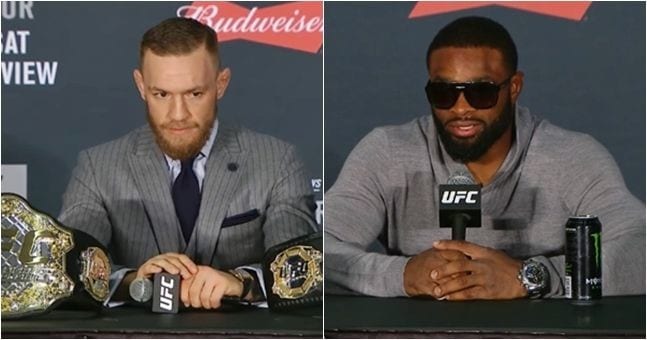 If there's one thing that Conor McGregor likes, it's options. The UFC lightweight champion has fighters across three separate weight classes in the UFC angling to be matched up with him, as well as the small matter of the impending boxing match with Floyd Mayweather on the horizon, so it's safe to say that the Irishman has a range of choices in front of him.
Immediately after winning his second UFC title in New York last November, McGregor said to Joe Rogan in his post-fight interview that he was "backstage starting fights [with] everybody". One of those who caught McGregor's attention was UFC welterweight champion Tyron Woodley.
In that one moment, and thanks to the publicity that came along with it, a seed had been planted for a potential future meeting between McGregor and Woodley and in his recent Q&A in Australia John Kavanagh was asked how he thinks a match-up between the two would go down.
"I'd fancy him in there with Woodley", Kavanagh explained as quoted by the Daily Star. He's just another wrestler with an over hand right, and that's the type Conor grew up knocking out. So, I wouldn't see a massive challenge in that."
Last year, when pressed on the issue of a clash between the two via MMAFighting.com, Kavanagh gave a more expansive response to what it might look like if the lightweight and welterweight champions were to collide.
"We've got so many irons in the fire at this stage", he said. "But I don't see what other people are saying, 'There's no way Conor can touch this guy.' There is. No one is perfect. There's openings there. Of course, he's a bigger man, he's got more power and you've gotta be super careful. But Conor trains with big guys like this. I see him do amazing things in the gym all the time.
"He's not enormous," Kavanagh said. "He's not some Goliath man. He's a little bit bigger. Conor would have reach on him, he would have technique on him in the striking, for sure. He'd have to of course deal with that power. … I certainly don't in my head go, 'Oh my God, no. We couldn't possibly beat him.' It's a doable fight."
So might we one day be talking about the champ champ champ? Stranger things have happened.
Comments
comments