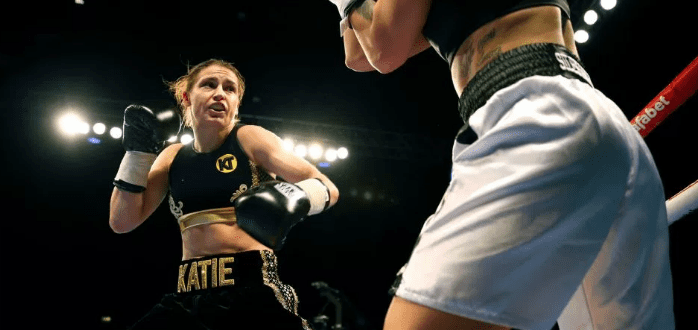 On Saturday night in Cardiff, Katie Taylor defeated Anahi Sanchez for the WBA female lightweight world championship to mark her place as the woman to watch in boxing after just seven professional bouts (and a heck of an amateur career).
As is usual when a fighter gets a big win, the question is already being asked as to what comes next for Taylor. Already her fanbase — particularly in her home of Ireland — rivals any in women's boxing, and already she could be considered in a position to negotiate big fights.
As we've seen in 2017, there's something about a cross-sport contest that draws eyeballs. And wouldn't you know it, last week, reports began emerging that Taylor's promoter Eddie Hearn had been exploring the potential for a bout between Taylor and former UFC bantamweight champion Holly Holm.
While Taylor appeared to be out of the loop in the immediate aftermath of her fight with Sanchez, she appeared completely open to the challenge, saying to an iFL TV reporter that his question was "the first I've heard [of it]! Sounds good! Yeah, bring it on for sure."
While that small quote might not be conclusive, earlier this year Hearn himself went on record as to be interested in that fight.
"If the money's there, you can't turn down things like that," Hearn said. "You can never rule it out in the future, but there's not one fighter that I have that I'm looking at [from MMA] other than Katie Taylor against Holly Holm.
"Holly Holm is a good boxer and she's a lot better than many of the [present] female pro boxers out there and I think that's a big fight."
Comments
comments