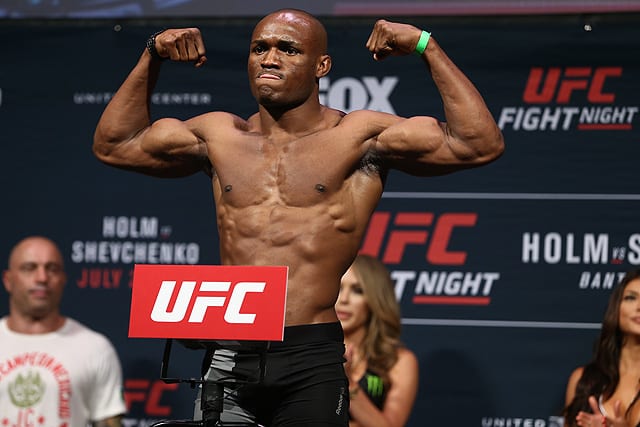 Kamaru Usman says Jorge Masvidal was the one to instigate the incident during Super Bowl media appearances.
Yesterday, footage emerged of the welterweight champion and his likely challenger squaring off and shouting at each other, with Usman and Masvidal having apparently crossed paths.
In Usman's eyes, the entire affair was Masvidal's doing, and he was more than happy to make things physical if Masvidal had so wanted.
"I was here to do some media. I had a whole day jam-packed with media stuff to get done, but this guy wanted 10 seconds of fame," Usman said, speaking to TMZ. "That's what happens. They all want to come to champ and say, 'Hey, look at me, look at me. Pay attention to me,' and that's all he wanted to do, and now we're actually talking about him, so he got his point across because he had the camera guy. You saw that?
"He had a camera guy with him. He had what, like five or six guys with him. I was dolo. I'm at the whole media day, and what better way to do it than a room full of the world's media. Come on, bro."
As far as a fight, the two have nothing scheduled, although Usman believes a Summer return is most likely. Should that be the contest made, the champion believes Masvidal knows what will happen once the cage door closes.
"He saw what I did to the guy that used to punish him and torture him every day at practice," Usman said. "He saw what I did. Now he better shut his little mouth before I fill his ass with a bunch of that Cuban coffee. Keep running his mouth, he ain't going to nothing. He just ran up and he didn't do nothing. I was dolo.
"Talk all you want, but I'm going to let you know, just like I did to that guy that used to torture you every day. I will fill your ass up with all that Cuban coffee."
Comments
comments