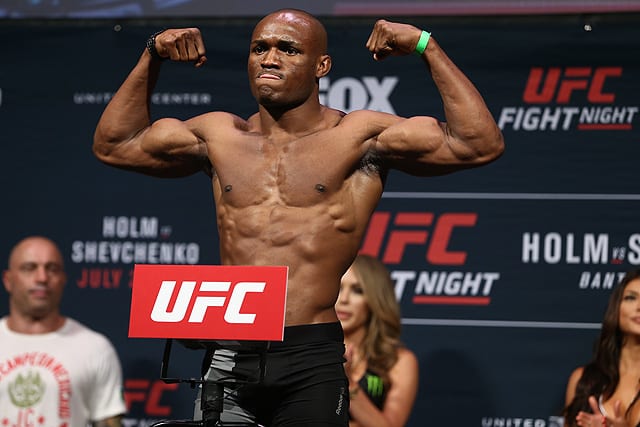 The entire story heading into Kamaru Usman vs. Colby Covington was about how equal the two men were in terms of ability.
As we leave UFC 245, that narrative will likely continue. For nearly five full rounds, Usman and Covington went basically one for one in terms of strikes, with rounds one and two being as razor close as you can get.
In round three, Usman started landing heavier, and apparently sent Covington back to his corner with a broken jaw. In retaliation, Covington came out swinging, winning round four and leaving it all to play for in round five.
Then, as Covington appeared to be upping the pressure, Usman landed a huge punch that dropped the challenger, then did so again. A few more punches to Covington on the canvas had the referee calling the contest off.
To put it into perspective, at the time of round 5, one judge had the fight 3-1 for Covington, one had it 3-1 for Usman and the other had it 2-2.
Amazingly, neither man went for a takedown the entire bout.
After the contest, Usman told UFC commentator Joe Rogan, "This one's not just for me, this one's for the whole world."
While the animosity between the two hasn't gone anywhere, the pair should be proud of their stunning efforts in Las Vegas.
Check out the highlights below:
FURIOUS pace early in R1! 💥

Usman and Covington couldn't wait to get their hands on each other! #UFC245 pic.twitter.com/6YyVKE0RIi

— UFC (@ufc) December 15, 2019
Ridiculous exchanges midway through R2! 🔥

The bad blood is LEGIT. #UFC245 pic.twitter.com/1MFj1099FQ

— UFC (@ufc) December 15, 2019
Neither competitor willing to blink! 🏆#UFC245 pic.twitter.com/rS2xnRGGUI

— UFC (@ufc) December 15, 2019
Championship rounds…still smiling.

🇺🇸 @ColbyCovMMA #UFC245 pic.twitter.com/kModjaXhjx

— UFC (@ufc) December 15, 2019
And STILL they swing back and forth!

Usman and Covington with an unbelievable championship pace! 🏆 #UFC245 pic.twitter.com/ucac2XUEP8

— UFC (@ufc) December 15, 2019
SILENCED. 🤫@Usman84kg HAS FINISHED COLBY COVINGTON! #UFC245 🏆

Get the E+ PPV ➡️ https://t.co/l5vGF5Fvpt #UFC245 pic.twitter.com/CGF4NgdaBu

— UFC (@ufc) December 15, 2019
–
Comments
comments