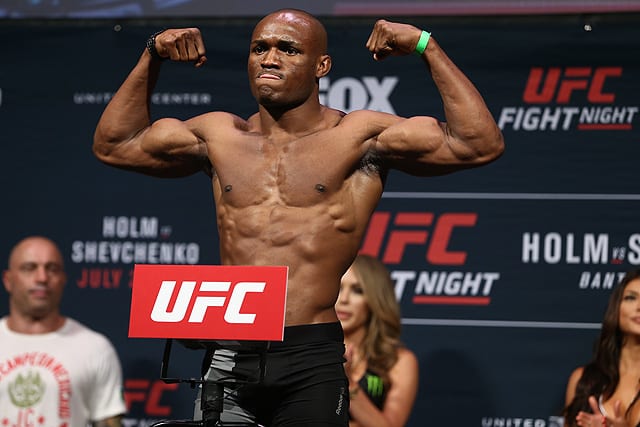 Saturday night's welterweight title bout at UFC 235 was barely over before word filtered out that the next 170lb world title fight would feature new champion Kamaru Usman and the division's preeminint 'heel', Colby Covington.
Usman reset the order atop the division on Saturday night, thoroughly neutering the reign of Tyron Woodley (the second longest in the category's history, incidentally) through five rounds in which the champion failed to make any discernible impact of note.
As he exited the cage, Usman made of a point of seeking out Covington with the UFC confirming shortly afterwards that these two would be the featured players the next time that this championship is up for grabs.
Kamaru Usman went straight after Colby Covington #UFC235 pic.twitter.com/gLuYvYeKGc

— ESPN MMA (@espnmma) March 3, 2019
"There was a lot of ruckus going on over there in his area," UFC President Dana White said of the commotion around Covington all evening, while confirming that he is next in line for a title shot.
"He almost got into it with mama Woodley at one point and everything else. That was like the third time I'd gone over to him that night. So I just told him, 'Listen, you're going to get this title shot. Don't f*ck this up. Just relax. You and all your guys relax. If anything goes down, let our people handle it, and we're going to take you in the back in a little while here and do some interviews.' That's all I said to him."
Kamaru Usman dominates Tyron Woodley for five rounds to win welterweight title | https://t.co/aalKY2STSy pic.twitter.com/yAbTW1A2hV

— TheMacLife (@Maclifeofficial) March 3, 2019
It certainly seems like this is a challenge that the new champion will relish. The two have been vocal in their negative opinions of each other in recent months (shocking for Covington, we know) and it seems that it will come to a head at an undetermined date in the future.
Dana White says he isn't mad about Colby Covington's invasion of his blackjack game yesterday. pic.twitter.com/qD8d3Wjmka

— TheMacLife (@Maclifeofficial) March 2, 2019
"Can I curse up here?" Usman asked at the post-fight presser. "I want to f*ck that guy up so bad. I can't be in a room with that guy. I can't be in a room with him. It's like, I just can't. I can't wait to be healed up and really put my hands on him. That's one I'm really gonna enjoy, brutalising him."
Comments
comments