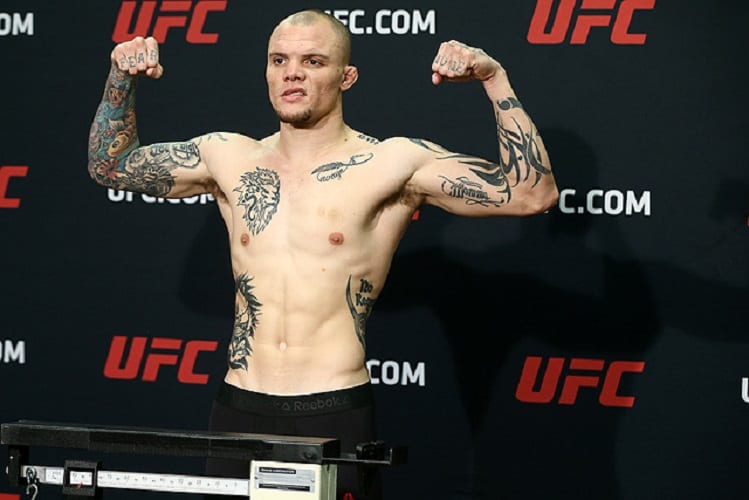 If the chips had fallen just a little bit different we could be sitting here early on Sunday with a brand new light heavyweight champion, had Anthony Smith been ruled unfit to continue after taking an illegal knee to the dome from Jon Jones in the fourth round of the UFC light heavyweight title bout at UFC 235. 
It would have been some sort of perverse magnification of the Matt Hamill fight several years ago, where Jones was disqualified on a technicality for throwing an illegal elbow in a fight he was dominating. It remains the sole 'loss' on his record and, last night at UFC 235, it was the closest that Jones has come to defeat — albeit a technical one — since.
Anthony Smith Reacts to Jon Jones Defeat and Illegal Knee | UFC 235 Post-Fight Press Conferencehttps://t.co/kPhVWdjyau

— TheMacLife (@Maclifeofficial) March 3, 2019
Smith, though, opted to fight on and said in the post-fight interview that it wouldn't have been right to take the title under these circumstances in a fight he was clearly behind in. It is a move which has earned him the praise of several fighters and fans alike.
.@lionheartasmith You have the Heart of a Lion, Anthony!
An amazing show of courage and bravery that entire fight. Incredible!
Thank you 🙏

— Conor McGregor (@TheNotoriousMMA) March 3, 2019
Thinking about it more, Anthony Smith electing to not take the DQ was one of the most honorable things I've ever seen this sport. Not sure how many in his spot would have done that, considering the money at stake. And it didn't seem like he thought twice either. Special guy.

— Ariel Helwani (@arielhelwani) March 3, 2019
Speaking to the media after the event, Smith praised his opponent but said that despite him not being able to do it on Saturday night, the aura of invincibility which sometimes surrounds the 205-pound champion is a myth.
"That's a beatable man," Smith said. "I didn't walk out of there thinking, 'Wow, he's a lot better than I thought.' Like when 'Rampage' lost to Jon and he stood there and said. like, 'This kid's for real, this guy's good,' like almost laying out to Jon. I don't feel like that.
"I'm not gonna take anything away from him because he did a phenomenal job of doing what he had to do tonight, but I don't have the feeling that's a guy that I can't beat.
"I absolutely belong here and I think that the fight alone proves that," Smith said. "I don't know what other 205ers are gonna f*ck with me, I just don't see that happening. I was in there, you know what I mean?
"And I don't feel like I got ran through, I just kind of got shut down. I don't feel like Jon Jones just went in there and beat the shit out of me, I just couldn't get going. That's Jon Jones though. I said I needed to force Jon Jones to fight me and I didn't do that. He didn't fight me, he nullified me. It's going to haunt me for a long time and I'm gonna have to get back to the drawing board and sit down with (coaches) Marc (Montoya) and Scott (Morton) and figure out what the f*ck happened."
Jon Jones landed an illegal knee during the main event, but he kept the faith.

FULL –> https://t.co/XHH1jUVYWu pic.twitter.com/R92GqgZAH4

— TheMacLife (@Maclifeofficial) March 3, 2019
–
Comments
comments