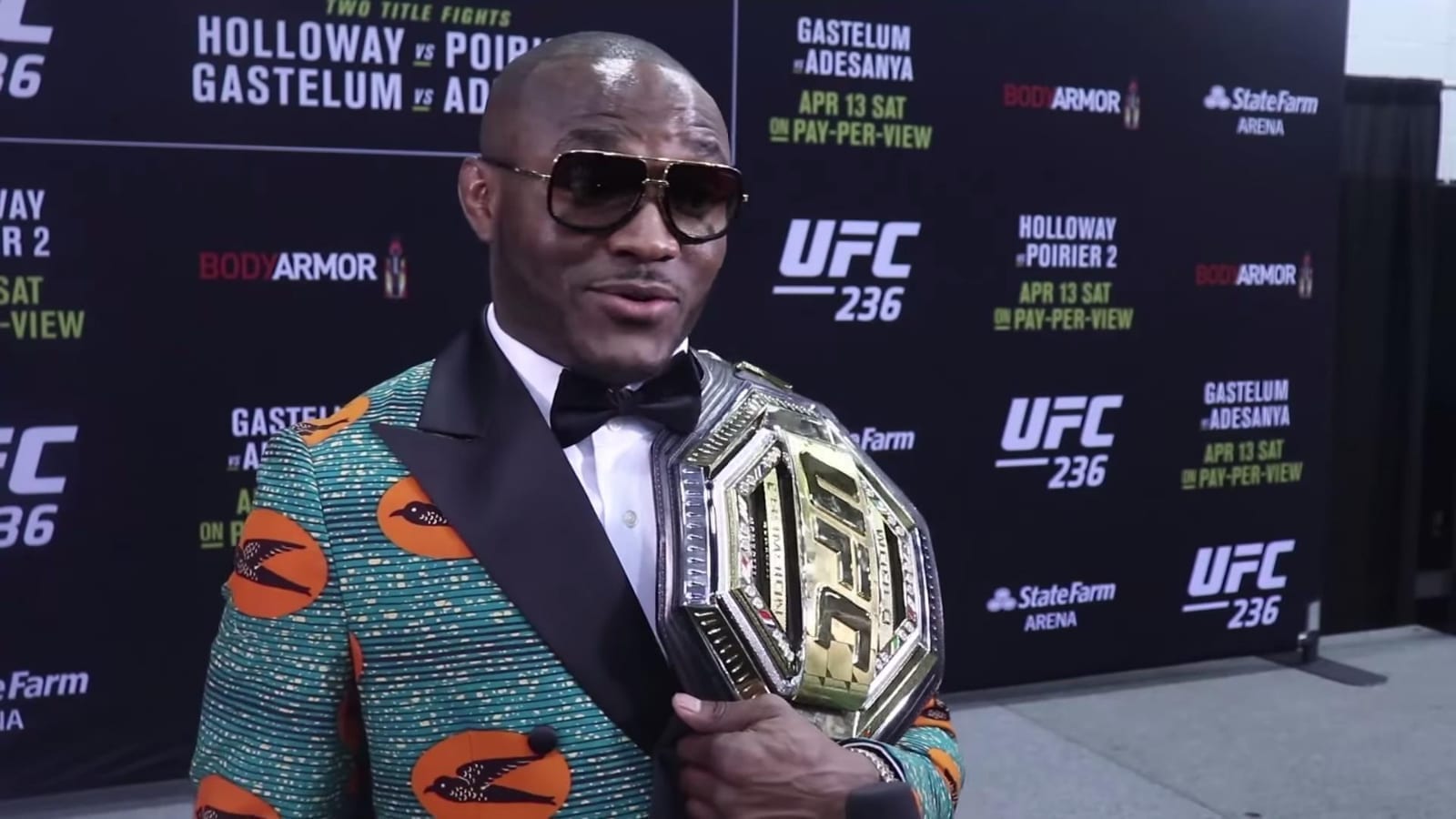 Kamaru Usman is the one that made a rematch with Jorge Masvidal happen, he says.
The welterweight champion, despite defeating Masvidal handily last summer, called for a second fight just moments after defeating Gilbert Burns last month. While a winner calling out a loser is rather rare, Usman said he was motivated by the fact Masvidal's short-notice acceptance of their last bout had given him an excuse to convince fans things could have gone differently.
"You said you wanted more than six days. Well, guess what? Now I've given you six weeks," Usman said, speaking to TMZ. "You asked for three, but I doubled it and gave you six, so April 24, this time there'll be no excuse. That's it; let's go in. You know what I'm looking to do, put the nail in the coffin, so bring your best game."
Usually, that might have been a tough sell for the UFC, but at this point, Usman says he's done enough work at 170-pounds to start making those requests.
"Let's be honest: If I had to pick, I can do whatever I want to do," Usman said. "I've cleared the division up. Now it's time to lap everybody. It's like we're running a race. Now I'm about to lap everyone, so I went in and told [Dana White], 'Hey, give me him.' He's a tough guy. I know he's a tough guy. Yeah, it's risky, it's dangerous, but guess what? I want to put the nail in that coffin once and for all. And that's how that fight got made."
Obviously, there are serious ill-feelings between Usman and Masvidal, even if the two had kind words for each other in the wake of their last contest. Since then however, Masvidal and his team have gone on to verbally attack the champion and point at their short training camp.
Fine, says Usman. If you feel that way, then it's time for the champion to prove the difference in levels.
"One, he either truly believes it, which I have to take very, very seriously, or he's just too stupid to understand what's happening right now," Usman said. "So I've got to believe it's the first one, and I've got to take him at his word. He's a very, very dangerous opponent. I never took that away from him. He did great things in 2019, but that was 2019. Now it's time to come back to reality. It's 2021, (and) his ship has sailed.
"I said it before: You're a journeyman. Not in a disrespectful way because there's nothing wrong with being a journeyman, but you're a journeyman and that's good, because that means you're gonna win some, you're gonna lose some. That's OK. There's absolutely nothing wrong with that, but don't try to pose as if you're something more than that, as if you could dethrone the champion. Don't try and do that."
Comments
comments