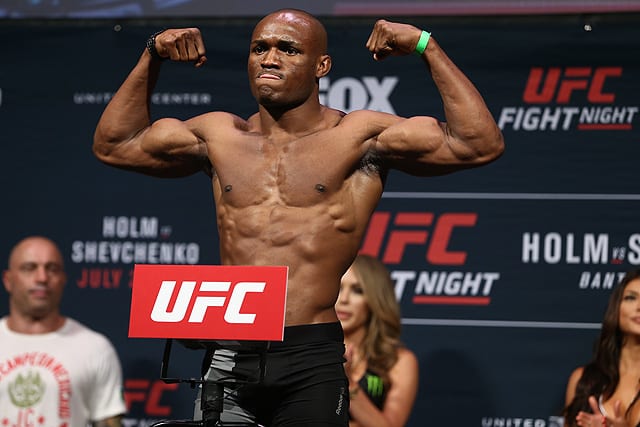 It's not often professional fighters from the UFC get into brawls with fans, but when it happens, there's usually a bizarre story accompanying it.
Such is the case with Kamaru Usman's outing at the recent Professional Fighters League event, where the UFC welterweight and his manager Ali Abdel-Aziz were seen in a melee with a rowdy fan or two. In the immediate aftermath, multiple stories emerged as the reason, with some speculating the American national anthem was involved.
While there might be a grain of truth in the fight taking place around the anthem, Usman denied it was directly related to anyone showing disrespect, and more to do with too much alcohol.
"A bunch of drunk fans were coming into the auditorium from the back, because the way the event was set up it was like an auditorium style," Usman said, explaining the fracas on MMAFighting's The MMA Hour. "You come in with everyone's back towards you and you're looking down towards the cage, so we go out to get some water to drink, we're thirsty, so we're coming back in, and while we're coming in all of a sudden the national anthem's playing.
"We stop and I'm like, 'Hey, hey, hey, stop, we don't want to walk through the crowd while the national anthem's playing so let's let this thing finish up'."
At that point, Usman and Abdel-Aziz exchanged looks with a fan, who Usman says immediately turned aggressive, using racial language.
"The guy turns around and looks at me and goes, 'Shut the F up you N-word. What are you gonna do?'," Usman said. "At this point I'm like, okay this dude is clearly drunk and he's serious and he's right in my face, so I'm like, 'Back up, you're in my space. And the guy goes, 'You ain't going to do nothing, what do you think? You're f'ing tough?' I think he's going to swing on me because he's more and more aggressive so I push him off me and I'm like, 'Bro, back up'.
"Of course, my manager's not happy with the situation and then a guy grabs him while he's trying to get near me, towards me, and the guy grabs him, and the guy is still coming towards me so I push him off.
"I turn around for us to leave and all of a sudden while my back is turned, I get hit in the back," Usman continued. "Boom. Then it's like three of them jump on Ali and then three of them jump on me and now it's like I gotta defend myself. I'm in self defense mode and I'm trying to draw one guy off me and it's all just a crazy commotion, guys are trying to jump on — and the whole time, I couldn't believe the situation was happening. There was one point I had a smile on my face because I'm like, 'That just happened to me'."
—
Comments
comments